November is National Adoption Month. This year the emphasis focuses on sustaining sibling connections for youth in foster care and awaiting adoption. "Every November, a Presidential Proclamation launches activities and celebrations to help build awareness of adoption throughout the nation. Thousands of community organizations arrange and host programs, events, and activities to share positive adoption stories, challenge the myths, and draw attention to the thousands of children in foster care who are waiting for permanent families." (U.S.Dept. of Health & Human Services)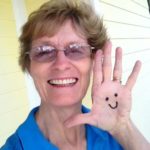 It is appropriate that we celebrate National Adoption Month during this season of Thanksgiving. As parents, we have been entrusted with the privilege to raise children born to other women. We love and nurture them with an awareness that our greatest joy: their presence in our families–began in significant loss for them. This year while giving thanks for your many blessings, remember the birth parents who made such a commitment of faith in us. Continue your education as high AQ–Adoption-attuned–families. Deepen your understanding of the unique needs that adoption creates in a family. Live and love with an eye to the joy of the present moment and a heart filled with empathy, kindness and respect. Books offer a great resource to adoptive families for strategies, a sense of community or a great read for the children. These authors write about the journey that is adoption and as a National Adoption Month Special, the kindle versions will be available for $.99. We invite you to explore these books. (Excerpts are from Amazon)
Expand your adoption library and do it at a bargain price. After you read these books, post your reviews on Amazon and let other families know what you thought.
---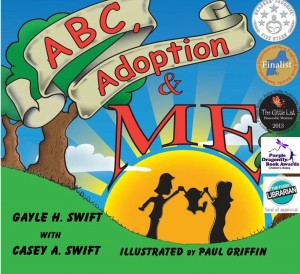 Gayle Swift – ABC, Adoption and Me  http://amzn.to/19SgUr3
Named a Favorite Read of 2013 by Adoptive Families, (the award-winning national adoption magazine.) Named a Notable Picture Book for 2013 by Shelf Unbound in their Dec/Jan 2014 issue; Honorable Mention – Gittle List of 2014; Finalist; IPNE 2014 Book Awards , Honorable Mention 2014 Purple Dragonfly Book Award 
 A child's review: "Most adoption books only talk about the good part of adoption. ABC shows adoption from the kid's side." ABC, Adoption & Me expresses their complicated feelings in a way that makes them feel normal and which makes it easy for them to discuss with their families.  Includes a parent guide. ABC, Adoption & Me celebrates the blessing of family and addresses the difficult issues as well. Exuberant, multicultural illustrations depict a wide range of families
---
Jody Dyer – The Eye of Adoption     www.jodydyer.com
"No one just adopts." From the very first steps of acknowledging adoption as a choice to the final document that seals the deal, Jody Cantrell Dyer paints a raw, warm, heartbreaking and eventually triumphant portrayal that narrates the entire adoption process through compassionate and humorous prose. Dyer's candor and soul color each page of The Eye of Adoption. She directly addresses the sorrows of infertility and the demands of adoption while consistently word-weaving a life rope of assurance, humor, and optimism for her readers. A middle-aged wife, mother, and teacher, Dyer "tells it like it is" in hopes that waiting adoptive parents, birthparents, adoptees, and those close to them will find kinship through her story."
---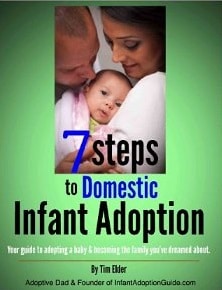 Tim Elder – 7 Steps to Domestic Infant Adoption  
http://www.infantadoptionguide.com/author/telder
This take-action resource guide will save you TIME & MONEY as it shows you what it takes to go through the domestic infant adoption process. It is packed full of over 100 links, tips, articles, and my personal adoption stories. 
My name is Tim Elder – I'm an adoptive dad. I've been in your shoes. My wife and I went through a miscarriage and years of infertility before we adopted our children. We were blessed to adopt them as newborns – one in 2007 and one in 2012. After going through the domestic infant adoption journey twice, I have a strong desire to help others – like you – get through it so I created this guide to help you.
---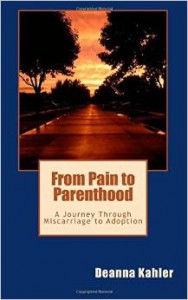 Deanna Kahler – From Pain to Parenthood     http://goo.gl/EQUZtx
Follow one woman's incredible and heartfelt journey from the pain of miscarriages to the joy of becoming a parent through adoption. Witness the many struggles that can permeate your life in the aftermath of pregnancy loss. Take a glimpse at the overwhelming desire some women have to become a mother. Celebrate the joy of overcoming adversity and achieving your dreams. Filled with honest, raw emotions and helpful coping tips, "From Pain to Parenthood" promises to touch your life with a real story that shows the power of the human spirit and the beauty of a mother's love.
Finalist, 2014 Next Generation Indie Book Awards, Parenting/Family
---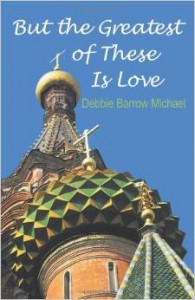 Debbie Michael – But the Greatest of These is Love     http://goo.gl/xasFwR
On a March evening in 2000, an unexpected and unsettling thought came out of nowhere, disrupting Debbie Michael's comfortable life—adoption! It was neither her idea nor her desire to adopt; she was already the mother of three. Instinctively, she knew God was speaking to her, but she did not want to listen if His message required action as life-changing as adopting an orphan. Dread lingered in the aftermath of the disturbing suggestion, and a debilitating fog of uncertainty settled over her life. A journey of a thousand miles (or five thousand, in this case) might begin with a single step, but Debbie was not eager to take that first step. Though God was relentless, she remained adamant. She was determined to ignore the nudging. But God would not be ignored! God pried Debbie out of her comfortable existence and opened a door to a life she didn't know existed. But the Greatest of These is Love is about much more than adoption. It is a story about the powerful and astonishing ways God uses ordinary people to accomplish His divine intention that we love one another.
---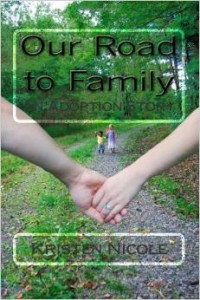 Kristen Nicole – Our Road to Family      http://goo.gl/0PXyVO
"My husband and I are adopting. Does anyone know what that means?" There was more than one answer to that question for Kristen and Dan, and this remarkable story takes you through their adoption journey from beginning to end. From fertility issues to two successful adoptions, Kristen eloquently sheds new light on each step of the adoption process. With an inviting and friendly style of prose, she guides readers through the heartache of having to let a child go and onto the joy of holding her child for the very first time. An honest portrayal of a different road to parenthood, this story affirms the real blessing that adoption can be.