Diverse Children's Books is a brand new book-sharing meme designed to promote the reading and writing of children's books that feature diverse characters. This community embraces all kinds of diversity including (and certainly not limited to) diverse, inclusive, multicultural, and global books for children of all backgrounds.
We encourage everyone who shares to support this blogging community by visiting and leaving comments for at least three others. Please also consider following the hosts on at least one of their social media outlets. Spread the word using #diversekidlit and/or adding our button to your site and your diverse posts.
We hope this community will grow into a great resource for parents, teachers, librarians, publishers, and authors! Our next linkup will be Saturday, May 7th and will continue on the first and third Saturdays of each month.
Most Clicked Post from Last Time
The diverse post that received the most clicks from the last #diversekidlit is … Diverse Children's Book Celebrating Cultural Traditions by Adrienne at Reading Power Gear. She shares seven great picture books focusing on different cultural traditions including Divali, Chinese New Year, and more!
Katie @ The Logonauts
Blog / Twitter / Facebook / PinterestBeth @ Pages and Margins
Blog / Twitter / Facebook / Pinterest
Carrie @ There's a Book for That
Blog / Twitter
Crystal @ Reading Through Life and co-blogger @ Rich in Color
Blog / Twitter / Google+
Gayle Swift, Author of ABC, Adoption & Me
Blog / Twitter / Facebook / Google+
Marjorie @ Mirrors, Windows, and Doors
Blog / Twitter / Facebook / Pinterest
Mia @ Pragmatic Mom
Blog / Twitter / Facebook / Pinterest / Instagram
Myra @ Gathering Books< Blog / Twitter / Facebook
Interested in joining as a host or an occasional co-host? Contact Katie at 1logonaut (gmail).
Want to be notified when the next #diversekidlit linkup goes live? Click here to subscribe for notification emails.
(Never participated in a linkup before? Please click here for a more detailed step-by-step.)
April marks the twentieth anniversary
of National Poetry Month.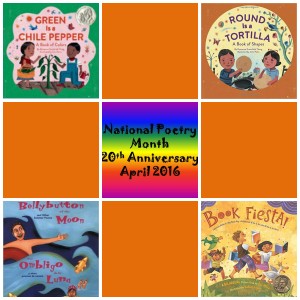 Both Round Is a Tortilla, and Green Is a Chile Pepper by Roseanne Greenfield Thong and illustrated by John Parra and From the Bellybutton of the Moon and Other Summer Poems by Francisco X. Alarcón make delightful choices to mark the observance and are good additions to your family reading list.
When searching for other good book suggestions, look for the hashtags
#DiverseKidLit,
#ReadYourWorld and
#WNDB
Both Round Is a Tortilla, and Green Is a Chile Pepper are a visual delight that captures the joy of family, the importance of culture and the distinctions of basic concepts (color and shape.). And it do it all with an exuberant celebration of Latino culture.
Round Is a Tortilla is a concept book that accomplishes dual goals well. While it depicts the distinctions of the basic shapes, it accomplishes this with a lively Latino flair. Thong artfully sprinkles Spanish words throughout the text. Readers will easily decrypt their meaning from the context and illustrations. Both books include a glossary to further clarify their meaning.
Similarly, Green Is a Chile Pepper a Pura Belpré Honor Book by the same author/illustrator team captures the beauty of color, cuisine and culture in this nod to Mexican heritage and family life. This is a treat for the eyes, the ears and the heart. Kids will enjoy this peek into this colorful world.
Alarcón's From the Bellybutton of the Moon and Other Summer Poems is a bilingual book. From it's kid-friendly title to its unbridled celebration of the world–especially Mexican culture, this book delivers. Children can enjoy the beautiful imagery and poetic rhythms in both languages.
This will help them acquire an appreciation of each and can help trigger an interest in learning to speak more than one language. The brilliantly colored illustrations add to the the sensory wallop of this entertaining book.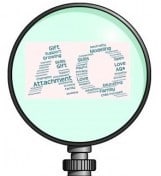 AQ Lens: Each of the previous books celebrates and therefore, values Latino culture.  Any time we can expose young readers to messages of tolerance and inclusivity, we all benefit. Whether as members of minority families or not, we all benefit from expanding the cultural appreciation for difference and appreciating the value such difference delivers.
Adoption is one obvious way families can be different but it is hardly the only one. We want our families to be equally valued and respected so must we teach our children to hold other people, families, and cultures with respect and acceptance too.