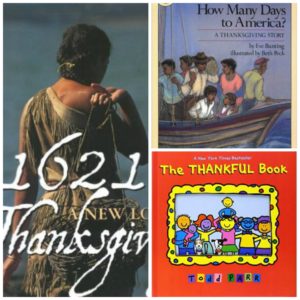 Thanksgiving focuses us on the grace of gratitude and the blessing of diversity. It exists both as a chance to express gratitude as well as a reminder to pause and notice the many overlooked blessings that enrich our lives. This collection of books will help kids develop a fundamental "attitude of gratitude."
They also reminds all of us that our thanksgiving festivities are enriched with a plethora of friends, family and foods. Diversity equally blesses our families, communities, country & planet. We're intertwined and mutually dependent on shared success for survival.
The Thankful Book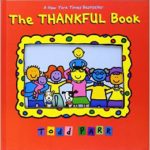 Todd Parr's signature artwork lights up each page. Although targeted to three to six-year-olds, it can be enjoyed by the entire family. His zany–and diverse–cast of characters express appreciation for a range of things: pets, underwear (and the chance to wear it on your head!) hair; basics like clean water and a home; vital things like friends and family.  The blessings mentioned are varied and some readers may share these same blessings while others may only dream of having them. Reading this book offers the chance to talk about gratitude, sharing, empathy and, compassion.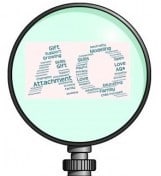 AQ Lens: Thanksgiving centers on gratitude; that is the very reason for its existence. As adoptive parents we must be mindful of the hot button issue that often connects gratitude and adoption. Adoptees frequently hear that they "should" feel "lucky" that they were adopted and be grateful to their parents.  This attitude/expectation ignores and trivializes the losses that co-exist with the benefits of adoption. Avoid commingling the desire to encourage gratitude with the burden of this misguided cultural expectation.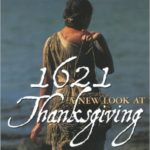 1621: A New Look at Thanksgiving a National Geographic Society publication by Catherine O'Neill Grace and Margaret M. Bruchac revisits the traditional myths surrounding the first Thanksgiving observance. Stepping beyond the Euro-centric slant, it strives to incorporate a more balanced view of the historic event and to give equal billing to the Native* people who joined with the Pilgrim settlers. It asks readers to consider that "Unquestioning acceptance of biased interpretations can affect the way we treat one another, even today." Although the target audience for this book is 8-12 year-olds, parents and teachers can infuse their explanations of Thanksgiving with a more balanced history with even their littlest children.
This book offers a historical context and is based on respected scholarship. It was developed in partnership with the Plimoth Plantation a "living" museum with reenacters who portray historically accurate colonial life. Much of the information will probably surprise many adult readers and upend long-held beliefs. It is much more than an entertaining "story" book; its purpose is to educate readers and inspire gratitude for all of the people who contributed to our history.
*The main tribe with whom the Pilgrims interacted was the Wampanoag tribe. Their name translates as "People of the First Light."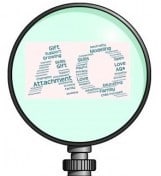 AQ Lens: Because of its strong stand for truth and respect this book can be used to trigger conversations about a child's family of origin so that their contribution to his/her life can be acknowledged and appreciated. It also can lead to discussions about any hard truths in a child's history as well.
How Many Days to America: A Thanksgiving Story by multi-award-winning author Eve Bunting was illustrated by Beth Peck. It follows a family as they escape oppression in their homeland who dream of America as a place to be free–free of soldiers threatening violence, free to disagree with their government and military, free to dream of a better life for their family.
On a moment's notice they leave behind everything and set sail for America. Their only baggage are hope and their bodies. When the little boy questions why his family must leave, his father replies, "Because we do not think the way they think, my son. Hurry." This poignant line reminds us what happens when it becomes unsafe to think or be different and when independent thought endangers the lives of those who are othered.
After a harrowing journey, the family arrives on the American shore and are welcomed with a celebratory meal. When a woman serving the food tells the little girl that they have arrived on a special day– Thanksgiving–the child asks what that means. She answers, "Long ago, unhappy people came here to start new lives." The reader is reminded that religious freedom was a driving force in the formation of our country. That freedom is definitely worth a moment of thanksgiving gratitude.  This book offers an easy way to talk about the immigrant roots of one's own family as well as to discuss the immigrants who continue to see America as their best hope.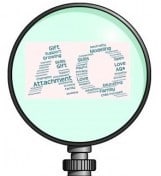 AQ Lens: This book may trigger an awareness of the challenges that parents can face as the try to provide for their children amidst challenging circumstances. It provides a natural segue to explore some of the reasons that caused a child's birth parents to choose adoption on their behalf.