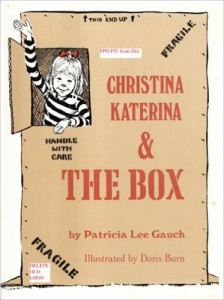 Nobody likes to be boxed in. But in Christina Katerina & The Box by Patricia Lee Gauch, a box becomes an invitation to rocket into the stratosphere of a child's imagination. Although originally published in 1971, the story is fresh and timely. Christina Katerina, the heroine of the story is no shrinking violet awaiting a Prince Charming to save her. She's a spunky and imaginative character who turns a lonely summer day into the beginning of a marvelous adventure.
Christina Katerina salvages an immense refrigerator box. Much to her mother's chagrin, Christina parks it under the apple tree on her front lawn. Of course, this is no ordinary box. Through Christina's eyes it transforms from one marvelous interpretation to another. With initial help from her dad and lots of her own effort she keeps reinventing the deteriorating box. She's an optimistic, self-determined child who presents a marvelous model of resilience and for making one's own fun.
Casey uses this book in her second grade classroom. It is so popular, she has to replace it periodically! Christina captivates her students and supercharges their own creative juices.  Christina Katerina & The Box    
AQ lens: Adopted children benefit from opportunities to reassemble disappointment and hard facts into a whole which they not only understand and accept, but also allows them to flourish.
This charming story depicts a light-hearted model for that kind of resilience and optimism. Christina Katerina is a girl that likes to make her own choices, create her own solutions and use her abilities to problem solve.
Since control tends to be a guiding issue for many adoptees, they will find Christina to be a character with whom they like to identify. Christina is the driving force behind the story. Without the intervention or prompting of adults, she reinvents the box each time and does it with verve, confidence and spunk!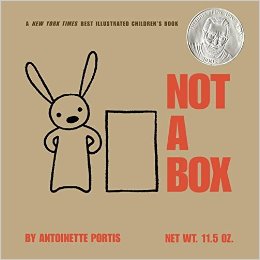 A similar story, Not A Box written and illustrated by Antoinette Portis  won a Theodor Seuss Geisel Honor Award. This time, the main character is a rabbit who carries a box with him everywhere. When asked why he is toting, squirting, standing atop, wearing, etc the box, he insists that, "It's not a box!" The simple illustrations answer the question and reveal the rabbit's vivid imagination. The spare prose allows the wonderful illustrations to carry much of the story.
Like Christina Katerina & The Box, Not A Box fuels the reader's creativity. The simple illustration style of both books will encourage children in their own artistic endeavors because the message of the story is clear: sometimes only the mind's eye can truly appreciate the hidden beauty and value of things.     Not A Box      
AQ Lens: The appeal to adopted children is similar between  Not A Box and Christina Katerina & The Box. Since Not A Box features a rabbit as the main character, this story may have greater appeal to children of of color or other cultures. It is also much shorter so it offers a good choice for those with more limited attentioin.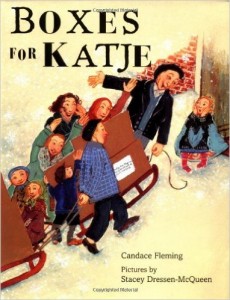 Boxes for Katje by Candace Fleming and illustrated by Stacey Dressen-McQueen offers a more serious view of "the power of the box." Based on the post World War II childhood experience of  Fleming's mother, the story tells of the terrible hardships faced by the Dutch. They lacked the basics: food, clothing, shelter, blankets, etc. Americans organized a relief effort which delivered small boxes filled with some of the items which the Dutch people needed so badly.
The father of the family who receives  the relief box writes back to Rosie. In his thank you note, he describes how grateful they were to receive it. Plus, he mentions that they shared the contents of her box with others in his village. Despite their own desperation, Katje's family still found it in their hearts to share their windfall with others.  What an awesome example of generosity, of giving from one's basics and not waiting for one's surplus.The father also begs for some food for their baby.
His letter begins an exchange between the young American girl and the desperate Dutch family. Rosie is moved by the Dutch father's plea. She sends another box to Holland. Again, Katje's family acknowledges the packages and tells how  they shared it with their neighbors. Rosie continues to send packages. She also shares Katje's letters with her own friends and family. Now many people contribute to the boxes which become larger and larger. More Dutch people receive help. The story concludes with the Dutch people expressing their gratitude with the one thing available to them: tulip bulbs.
These lessons in sharing will not be lost on young readers. The story offers a clear example of how a child can make a significant difference in other people's lives. Boxes for Katje  provides a lovely chance to entice children into empathy and action.     Boxes for Katje     
AQ Lens: Adopted children must balance additional challenges in their journey through life. Grief loss and anger are familiar emotions. A story like Boxes for Katje offers a powerful peek into the difficult lives of other children. It makes a great chance to learn how these families faced and overcome their own challenges.
Empathy is an emotion which must be cultivated. This story can be a useful tool in a family's overall strategy for nurturing emotional literacy in children. It also depicts children being empowered to act, create solutions and make a difference–another very important skill for kids to master.