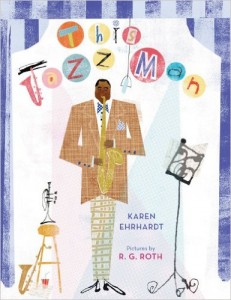 This Jazz Man by Karen Ehrhardt and illustrated by R. G. Roth is a high energy, retelling of  the classic children's song, "This Old Man." It introduces readers to several famous black musicians and does it in a fun and appealing way. The catchy tune reverberates in your mind's ear–or better yet, in your read-aloud voice as you sing the text to life.
Bold illustrations pair with a text rich in onomatopeia. Kids will itch to replicate the plinks, thumps and bob-de-bops. The counting aspect of the story is an added bonus. The end pages include biographical information which parents can share with their young readers. This Jazz Man succeeds on several levels: it delivers a powerful punch of fun, introduces readers to some of the great figures in Jazz and expands children's knowledge of the contribution of black performers to the American musical lexicon.
The AQ lens: This is an excellent choice for adding a multicultural element to the family library. The educational and entertainment value are valid for all readers, regardless of race. For adoptive families committed to supporting diversity, this is a winner. For families touched by transracial adoption, it affirms the positive role blacks have played in the American music scene.
Music serves a special connection to emotions. Since this book almost insists on being "performed" as it is read, it opens a channel to a child's interest in self-expression. Nearly all youngsters enjoy music. This Jazz Man is an excellent choice for beginning a process of encouraging music in a family.
"Each year, the Caldecott Medal … is awarded … to the artist of the most distinguished American picture book for children." (Quoted from the ALSC –Association for Library Service to Children website.) The 1984 winner, Ten, Nine, Eight illustrated and written by Molly Bang  stands the test of time. It offers simple text  and features an African-American child.
I particularly appreciate the illustrations depict Daddy and daughter together. Many books feature moms and their children. When one shows an involved dad, it is always welcome!  The scenes depicted have a gentle, nurturing tone that follow  the little girl from bath time to bedtime. A sweet, relaxing book, it would be an excellent choice not only for multicultural families but for any family.
The AQ lens: This is a quality book that includes an African-American child. The language is straightforward and free of slang or dialect; the setting is a cozy home that could be urban or rural, thus open to the child's interpretation. The colorful illustrations invite exploration and offer great conversation opportunities. Although adoption is never mentioned, because the dad is depicted but not mother, it could be especially well suited to a family parented by a single adoptive dad and/or two dads.