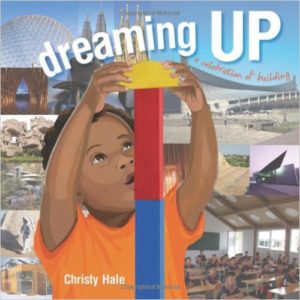 Dreaming UP: A Celebration of Building written and illustrated by Christy Hale pairs child-built fantasy constructions with photographs of startlingly similar constructions from around the globe.  The result is a magical trip around the world in a way that simultaneously celebrates the diversity of architectural memes with an equally diverse presentation of characters. Hale illuminates the connection between child's play and world architecture with delightful concrete poems that also mirror the constructions.
The book subtitled, A Celebration of Building   serves as an excellent metaphor for building community, creativity and relationships. The illustrations feature a diverse characters who create universal kid creations: sofa forts, sand castles, blocks, etc. The accompanying architectural photographs bring those imaginary designs to life in real buildings from all around the world. The similarities between fantasy and reality are stunning. Some of them are so unusual it is difficult to believe that they are real. Such fun to see them!
The author has included end notes on each photo which provide fascinating information.
This book can inspire on many levels. Imagine a child's delight to see constructions similar to many they have created during playtime come to life. Perhaps it might even stimulate  their interest in becoming an architect or engineer so that they too can build such wonderful things.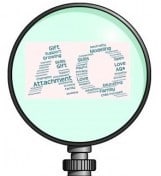 AQ* Dreaming UP: A Celebration of Building written and illustrated by Christy Hale  is a great celebration of world community. It obviously values the aesthetics of the many cultures featured. This reinforces the important role of diversity and how it enhances and strengthens our world. Just as in nature, diverse communities are healthy communities. And it serves as an excellent jumping off point for a family project exploring aspects of an adoptee's home culture and/or the ancestral culture of the adoptive parents.



Diverse Children's Books is a book-sharing meme designed to promote the reading and writing of children's books that feature diverse characters. This community embraces all kinds of diversity including (and certainly not limited to) diverse, inclusive, multicultural, and global books for children of all backgrounds.
We encourage everyone who shares to support this blogging community by visiting and leaving comments for at least three others. Please also consider following the hosts on at least one of their social media outlets. Spread the word using #diversekidlit and/or adding our button to your site and your diverse posts.
We hope this community will grow into a great resource for parents, teachers, librarians, publishers, and authors! Our next linkup will be Saturday, July 16th and on the first and third Saturdays of every month.
Most Clicked Post from Last Time
Svenja takes "most-clicked" honors again this time with her post on 30 Multicultural Books about Immigration in honor of June as Immigrant Heritage Month. The post is divided into books geared for preschoolers and elementary students, and the elementary recommendations are further subdivided by the continent of origin. You can find more great posts by revisiting the previous linkup here.
#DiverseKidLit is Hosted by:
Want to be notified when the next #diversekidlit linkup goes live? Click here to join the mailing list. Interested in joining as a host or an occasional co-host? Contact katie at thelogonauts.com.
(Never participated in a linkup before? Please click here for a more detailed step-by-step.)