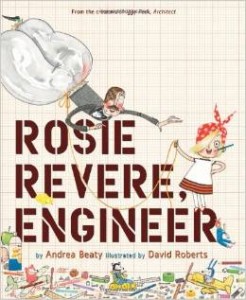 Andrea Beaty has created a spunky heroine in Rosie Revere, Engineer. Behind the shrinking violet who fades into the background at school, Rosie is a visionary with big dreams of becoming a "great engineer" and the talent to match. She creates inventions from her vast collection of found "stuff." Rosie Revere, Engineer does a fabulous job of capturing a young child's creative delight and the immense pleasure they enjoy in sharing their creations with the people they love. (How many times have you heard a child chime, "Look what I made!" Remember their exuberance, their pride, their need to have your acknowledgement?)
As a young tot, Rosie proudly shares her inventions with family until the dreaded day that her uncle–gasp–laughs at her masterpiece. Rosie feels judged and belittled by his laughter. Despite Uncle's reassurances to the contrary, she believes he's laughing at her. In typical child-fashion, she generalizes from this one experience, is convinced she lacks talent, and is devastated. Fortunately, her drive to create is untamed but she decides not to share her inventions anymore.
"After that day [Rosie] kept her dreams to herself." She's lost her spark and sits in her classroom "not daring to speak." Rosie hides her creations  until her namesake, great-great aunt Rose appears on the scene.(Adults will recognize her as an echo of Rosie the Riveter a cultural icon of World War II fame.) The two are kindred spirits. The elderly aunt confesses that she has an unfulfilled dream: to fly. Her aunt's admission rekindles Rosie's courage and confidence in her ingenious inventions. Although Rosie fears failure, she embraces the challenge and sets out to create a flying contraption that will fulfill her aunt's dreams.
Alas, her zany cheese-copter crashes. Just like the dreaded uncle, great-great aunt Rose laughs at Rosie's designs but with joy not judgment. "You did it! Hooray! It's the perfect first try! This great flop is over. It is time for the next!" Rosie learns to be proud of her failures, to round up her courage and keep trying until success is achieved.
David Roberts' quirky illustrations are charming and so expressive. Each offers many discussion points to be mined. As I read this through an AQ* (adoption-attuned) lens, this story offers many wonderful nuggets. Themes that infuse the story include: diversity, "shyness', recycling, ingenuity, viewing the world with an artist/inventor's eye, women as capable, failing forward teamwork, confidence, resilience, persistence, being true to oneself, and owning one's unique gifts. Wow! Jam packed, fun and visually delightful, this story offers an easy window to discussions about hidden talents and how they may have a genetic origin. This offers a natural segue to positive mention of birth parents and how biology helps to shape who we are.
I highly recommend this book. it is a five star gem.