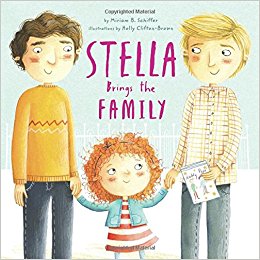 https://www.amazon.com/Stella-Brings-Family-Miriam-Schiffer/dp/1452111901/ref=sr_1_1?s=books&ie=UTF8&qid=1496321058&sr=1-1&keywords=stella+brings+the+family
Stella Brings the Family written by Miriam B. Schiffer and illustrated by Holly Clifton-Brown features a little girl facing a dilemma: she has no mommy to bring to the school  Mother's Day celebration.  Stella has two fathers but no mommy. When her classmates notice that Stella is feeling down, they ask her. "What is wrong?" Stella shares her problem. Her classmates respond with many questions that focus on who fulfills the traditional "mothering" tasks for her. Stella tells them how  her parents nurture her showing that it is not who does the loving that is important. It's that someone is there to love the child wholeheartedly.
Stella's classmates see beyond her perception of the problem and they ask since her dads are supporting her like a mother, why not have them come to the festivities? Heck, you could even bring her aunt, uncle and cousin who are also an important part of Stella's family. Stella embraces their suggestion.
On the day of the school celebration the families arrive. Readers will discover that there are many kinds of families within the small group: single parents, grandparent-parents, two moms and two dads. The families are depicted without a lot of fanfare. Their variety and differences is not the point, the way families support one another is.
One of the subtle plot lines of the story is the empathy and sensitivity which Stella's classmates demonstrate. They are so in tune with her that they are able to notice she is distressed. They not only notice, they take action and ask her about it. This models important EQ (emotional Intelligence) skills and offer another important discussion thread when reading this book.

 AQ* Lens
Stella Brings the Family  offers an obvious path to discussing adoption because Stella has two dads. She most likely has been adopted by one or both of her dads. Similarly, one of the other families depicted features two moms who also happen to be racially diverse. It is certainly possible to wonder about some of the other children as well. Simply because they look like they "match" does not rue out the possibility that they might have been adopted. When we look at a child, you can't identify if they were adopted; there's not tattoo or brand that marks them visibly. This thought can be expanded into discussions about assumptions–on the appropriate level– and how our guesses (assumptions) about situations can be way off the mark. It's important to teach children this concept early and to reinforce it often.
 Our theme for this #DiverseKidLit is books featuring multiethnic families and/or biracial main characters. Sometimes a focus on diversity can feel like forcing people into boxes. Let's celebrate the diversity that can be found within a single person or household! (As always, the theme is only a suggestion. Diverse posts on alternate topics are always welcome.)
What Is #DiverseKidLit?
Diverse Children's Books is a book-sharing meme designed to promote the reading and writing of children's books that feature diverse characters. This community embraces all kinds of diversity including (and certainly not limited to) diverse, inclusive, multicultural, and global books for children of all backgrounds.
We encourage everyone who shares to support this blogging community by visiting and leaving comments for at least three others. Please also consider following the hosts on at least one of their social media outlets. Spread the word using #diversekidlit and/or adding our button to your site and your diverse posts.
We hope this community serves as a resource for parents, teachers, librarians, publishers, and authors! Our next linkup will be Saturday, July 1st. We will only be hosting one linkup per month (on the first Saturday) for June, July, and August.
Upcoming Theme
Our theme for the current month is books featuring biracial and/or multi-ethnic characters. Themes are a suggestion only; all diverse book posts are welcome. If you're interested, you can start planning now …  Our theme for July (1st) will be series. Series books are great for hooking readers, because there's another book after you finish the first one! Share your favorite book series featuring diverse characters?
Most Clicked Post from Last Time
The most-clicked post from the previous #diversekidlit was Raincity Librarian's #diversekidlit and roundup of great picture books about India. Learn about the monsoon, traditional transportation, saris, and more!
#DiverseKidLit is Hosted by:
Want to be notified when the next #diversekidlit linkup goes live? Click here to join the mailing list.
Interested in joining as a host or an occasional co-host? Contact katie at thelogonauts.com.
(Never participated in a linkup before? Please click here for a more detailed step-by-step.)
Get #DiverseKidLit Recommendations on Pinterest!
Our Pinterest board highlights a wide range of amazing posts and resources for Diverse Children's Books. Please consider following the board for even more great books!
Share Your Link