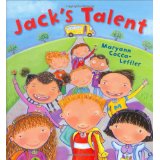 Kids tend to view the world in all or nothing terms and often respond to struggles with discouragement and defeat. It is an all too easy slide to generalizing to "I am a failure."  From small amounts of data, they form conclusions which often are inaccurate. It takes strong evidence to persuade them this is not true and to regard failure as the stepping stone to success and competency. School is one environment where kids makes such rapid–and inaccurate–conclusions about their abilities. They decide if they are smart or not, capable or not, interested or not.  Maryann Cocca-Leffler's picture book, Jack's Talent,  highlights one of these moments.
The story occurs on the first day of school and unfolds in vivid, cartoon-like illustrations which include a robust multicultural cast. Miss Lucinda, the teacher asks each pupil to introduce himself and tell about their best talent. One-by-one, each student proudly discusses their talent. As each one speaks, Jack becomes increasingly discouraged. He believes he has no talent! Jack's turn arrives. Brokenhearted and embarrassed, he recounts each of his classmate's talents with the refrain, "I am not good at … like…."
Reframing Jack's words, the teacher deftly points out to him–and the rest of the class–how precisely Jack recalled his classmates words. "You are good at remembering." She reassures Jack who beams with equal measures of relief and pride. The entire class agrees because they have experienced the truth of her assertion. Miss Lucinda transformed what could have been a spirit-crushing experience into an exercise in recognizing and valuing difference. What a valuable lesson!
AQ* Lens: Encouraging and nurturing competence is an essential part of parenting–especially adoptive parenting. Grief and loss issues chip away at self-esteem. It requires intentionality to build confidence, pride and capability on evidence that kids can believe and trust. One tiny step at a time, parents can help children build experiences of success onto success. It takes time to establish this resilient attitude.
Encouraging children's efforts–instead of praising outcome–focuses children's attention on striving. Persistence is an essential trait and far outstrips the value of easy success. Instead, parents can help them concentrate on the satisfaction that comes from trying. (You sure are a hard worker, " versus "You are so smart." And it is easy to feel the difference between : "You missed," versus, "You almost succeeded. Next time you'll come closer." This dampens a child's attachment to immediate success with minimal effort (which we know is unrealistic.) Reinforcing a willingness to try things through multiple unsuccessful attempts grows a pattern of resilience and paves the way to mastery.
Parents can allow kids to be privy to their own struggles to learn and master new things. Let them see how many times you have to attempt tasks before accomplishing goals. They can share a kid-friendly version of the inner dialog that adults play inside their own heads. By making this script audible, kids can note that not only do their parents struggle, they also require many attempts before they succeed. Otherwise, they tend to assume that your accomplishments occur without effort.