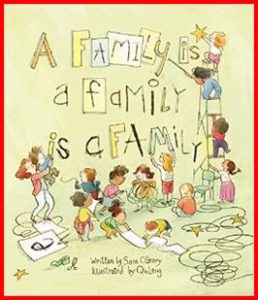 Family Is A Family written by Sara O'Leary and illustrated by Qin Leng projects the reader into a moment that overflows with emotion. To show her students that all their families are each special and unique and deserve respect, a teacher asks the class to share what each student feels makes their family special.
Told through the words of a little girl, the story begins, "I went last because…"
What a powerful opening. Who among us hasn't wanted to go last because we feared not fitting in or felt our situation was something to be embarrassed by, ashamed of, or which others might find inferior in some way? I'm guessing as children we all had some of these kind of moments. (Perhaps even as adults, we've had times when our stomach clenched as we imagined how others might judge our looks, our homes, our families … us.)
The story proceeds. Child after child describes his/her family. The reader meets an inclusive array of family configurations. Diversity abounds! We see step-families, interracial families, families with many children, foster families, families with only one child, single-parent families, families with two moms or two dads, families who "match" and families who don't. The stories premise comes across clearly: all families are unique and… that variety does not make one type of family better or less than others. What counts is that families love, support and connect with one another, not how they look, how they came together, nor whether they "match" or not.
Leng's delicate illustrations portray the families with a warm and whimsical touch which adds charm and appeal to the book.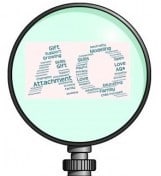 Adoption-attuned Lens: Family provides us a space where we feel connected, valued and safe. This book highlights some of the different ways families are formed. This is important for adoptees because they often operate under the misunderstanding that their (adoptive) family is the only one which is "different. Reading about other "alternative" families helps to put the adoptees experience of difference as a source of commonality. Talk about a paradigm shift! It provides children an opportunity to see that other kids may need to feel welcome and accepted and gives adoptees a chance to be the vector of acceptance and welcome. what a refreshing shift for adoptees to be on the giving side of offering acceptance and welcome instead always being the seeker.
http://wp.me/p4vGHg-Ln