I'm a fan of haiku a traditional form of Japanese poetry. Its compact format distills thoughts to their essence and focuses our lens with unique precision. Sounds stiff and confining. Actually, haiku need not be aloof and formal as these three titles demonstrate.
Dogku by Andrew Clements and illustrated by Tim Bowers is "a tale in haiku of one adorable dog…" who happens to need a home. With the spare framework of haiku, Clements narrates a story of this dog's journey to a home and family. The emotional truth resonates while the charming oil illustrations reinforce the mood as this less-than-perfectly-behaved pup wriggles his way into the hearts of readers. Readers will root for this charming "Mooch" and will identify with the children who yearn to keep their new pet.
AQ* Lens This story offers and easy digression to explore what it is like to join a new family, to learn the rules and routines and to grow together. Some children may be unsettled by the hint that the dog's behavior might lead to his return to the pound. The flip side of this risk is that it offers a chance to discuss similar unspoken fears which a child might harbor about himself.
Wing Nuts: Screwy Haiku
by Paul B. Janeczko and J. Patrick Lewis. Illustrated by Tricia Tusa oozes humor from every syllable. These short poems will make kids think twice in order to "get" the joke. Consider this example from the poem featured on the cover:
"On Ferris wheel

I regret French fries, milk shake—

those below agree."
I'll just bet they do!
Zany illustrations capture the humor of each poem which is part riddle, part commentary and all fun. This is a definite winner which will easily rebut any reader's insistence that they hate poetry.
AQ* Lens In an unexpected twist, several of the families depicted are multiracial. This feature offers a chance to discuss the definition of family and how they need not share a common "look" or race in order to be a genuine family.
Won Ton: A Cat Tale Told in Haiku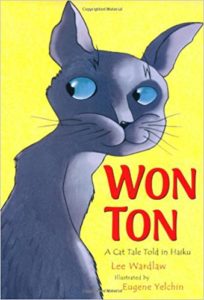 by Lee Wardlaw and illustrated by Eugene Yelchin tells the story of a cat currently residing at the Shelter. But all is not as it should be. Even though
"Nice place they got here.

Bed. Bowl. Blankie. Just like home.

Or so I've been told."
In seventeen syllables, the reader feels the truth of the cat's circumstances: although his basic needs are being met, it isn't equal to the comfort and welcome of home. Each poem reveals part of the cat's process of learning to feel at home with his new family. The brevity of the haiku does not limit the emotional scope; it distills it down to its essence. This story is endearing and thought provoking
AQ* Lens As in Dogku, there are obvious parallels to the process of joining a family through adoption. Kids adopted at an older age will often hold back their hearts and will be reluctant to be open to new attachments until they are absolutely sure that these new relationships will be safe. In the interim they might choose to resist the welcoming overtures of their new family and can display distancing or negative behavior. We see this reflected in this haiku from Wonton:
"Here, kitty, kitty. Kitty."

Ha. I'll stay put till I know"

Are they friend … or foe?
This poem offers an indirect way of talking about the role that caution and with holding can be used as a defense against disappointment of being hurt. Conversations can focus on finding more effective ways to keep oneself safe while still opening up to the possibility that safe and loving relationships are possible.
Our theme for this #DiverseKidLit is Global Books. Please share your favorite diverse books that take place in countries other than your own. (As always, the theme is only a suggestion. Diverse posts on alternate topics are always welcome.)
What Is #DiverseKidLit?
Diverse Children's Books is a book-sharing meme designed to promote the reading and writing of children's books that feature diverse characters. This community embraces all kinds of diversity including (and certainly not limited to) diverse, inclusive, multicultural, and global books for children of all backgrounds.
We encourage everyone who shares to support this blogging community by visiting and leaving comments for at least three others. Please also consider following the hosts on at least one of their social media outlets. Spread the word using #diversekidlit and/or adding our button to your site and your diverse posts.
We hope this community serves as a resource for parents, teachers, librarians, publishers, and authors! Our next linkup will be Saturday, June 3rd. We will only be hosting one linkup per month (on the first Saturday) for June, July, and August.
Upcoming Theme
Our theme for the current month is global books. Themes are a suggestion only; all diverse book posts are welcome. If you're interested, you can start planning now …
Our theme for June (3rd) will be books featuring multiethnic families and/or biracial main characters. Sometimes a focus on diversity can feel like forcing people into boxes. Let's celebrate the diversity that can be found within a single person or household!
Our theme for July (1st) will be series. Series books are great for hooking readers, because there's another book after you finish the first one! Share your favorite book series featuring diverse characters?
Most Clicked Post from Last Time
The most-clicked post from the previous #diversekidlit was Books for Teaching about Russia from Our Unschooling Journey through Life. This post includes links to 9 different books about Russia as well as an overview of some learning games to play with kids.
#DiverseKidLit is Hosted by: 
Katie @ The Logonauts  Blog / Twitter / Facebook / Pinterest
Want to be notified when the next #diversekidlit linkup goes live? Click here to join the mailing list. Interested in joining as a host or an occasional co-host? Contact katie at thelogonauts.com.
(Never participated in a linkup before? Please click here for a more detailed step-by-step.)
Get #DiverseKidLit Recommendations on Pinterest!
Our Pinterest board highlights a wide range of amazing posts and resources for Diverse Children's Books. Please consider following the board for even more great books!