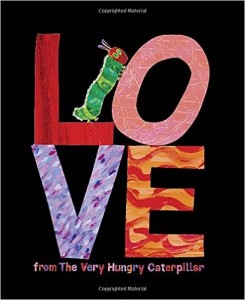 In the vein of Dr. Seuss, Eric Carle's new book  Love from The Very Hungry Caterpillar,  is a treasure for all ages not only for children. Pictured in his signature style of  artwork, the sweet message of love is expressed in simple metaphor, brilliant color and spare graphics.
Snuggle close to your special sweetie and share this little gem. The human heart craves affirmation; sometimes a book is the perfect way to do it. Read it often. It's a great way to get used to expressing the love in your hearts.
#AQ Lens Too often we forget how important it is to express our love to our family. In this season of gift-giving it is easy to think that the stuff we buy conveys our emotion. Things are appreciated, expected and enjoyed but the thrill of stuff quickly fades. What persists in memory is the way we make our loved ones feel.
It is especially important for our kids not only to hear but also feel our love. Our best gift to them is our undivided attention, attentive listening and willingness to express in words and actions the love we have for them. Often, children who were adopted struggle with doubt, rejection and feeling inadequate. Be intentional about the many ways in which you live the love you feel for them. Help them experience it in words as well as actions. Give them more time than stuff. Connection with you is what they really crave.
When parents freely express their emotions, it provides both a model as well as "permission" for kids to do the same. What a blessing to teach kids that it is not only okay, it is actually encouraged to open up and share their feelings.