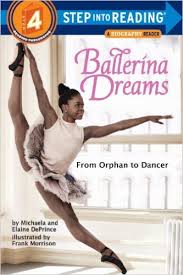 Dreaming comes easily to most people but manifesting dreams requires more than wishing. As adoptive parents we are familiar with the power of a dream to motivate a relentless dedication of time, energy, resources and money. In Ballerina Dreams by Michaela and Elaine DePrince, readers meet two inspirational dreamers: the mother daughter authors who collaborated on this book. It follows Michaela's dream to become a ballerina–something few black girls accomplish.
When Michaela began imagining this goal she was an orphan in Sierra Leone; it seemed improbable, a far-fetched possibility.  Most people would believe it an unachievable goal. But not Michaela. She believed in herself. She believed in her dream. And she knew how to work.
Challenges filled her life. In addition to losing her parents to war, Michaela suffered from a visible skin disease that destroyed some of the pigment in her skin. This left her looking "spotty" and vulnerable to teasing by the other children in the orphanage. Still, Michaela remained undeterred and held onto her dream to become a dancer.
Meanwhile far across the world in the United States, Elaine DePrince, an equally determined woman, dedicated herself to fulfilling  her own dream: to adopt a child war-torn from Sierra Leone. Ballerina Dreams shares their amazing story.
Michaela's persistence and discipline matched the immensity of her dream. She moved far beyond wishful thinking and invested herself completely as she pursued he goal. Eventually, she became a featured performer in the documentary film, First Position, then a principal ballerina with the Dance Theatre of Harlem–the youngest ever. She built on this success and eventually joined the  Dutch National Ballet, a prestigious ballet company
AQ Lens:   Michaela's story is one of resilience in the face of adversity and dogged persistence of an important goal. Inspired by her dream, she allowed nothing to prevent her from realizing her heart's desire. This book clearly shows that her success did not come easily. It resulted from her hard work augmented by collaborative resources and a team of people who supported Michaela.
Her story exemplifies another important adoptee lesson in trust: to rely on others, to depend on their support and to believe that they will be there when needed. Many adoptees have an abiding fear of rejection. This can tempt them into hiding their true wishes and/or replacing their own dreams with the wishes of others. Michaela's story provides an inspiring model for following one's own path. It also shows that success is usually a team effort. Many people supported Michaela along the way. She had to agree to let them in, to expose her innermost dream and be vulnerable to their response.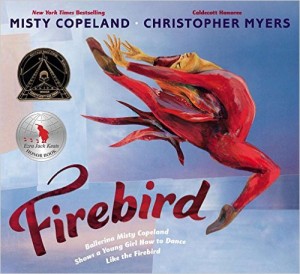 Firebird: Misty Copeland written by ballerina Misty Copeland has won numerous awards:  
2015 Coretta Scott King Illustrator Award
Ezra Jack Keats Book Award New Writer Honor
An NPR Best Book of 2014
An Amazon Best Book of 2014 – Ages 6-8
An Amazon Best Book of the Month, September 2014
Essence Magazine Best Children's Book of 2014
Glorious illustrations bring this poetic story to life. Evocative metaphors capture a dazzling mood. Watching Misty dance, a young child is overwhelmed by her performance and thinks "the space between you and me/ is longer than forever." She fears that such accomplishments lie beyond her reach. But Misty counters: "I was a dancer just like you/a dreaming shooting star of a girl/with work and worlds ahead." As with Michaela's story, readers will feel both inspired and awed by the fruits of determination and hard work.
AQ Lens: This book repeats the message of diligence, persistence and teamwork. It also offers another wonderful example of an African-American child succeeding in arenas previously unavailable to girls like Misty. Firebird: Misty Copeland indulges the eye and the ear and is a great book to add to the collection of any family interested in an expanded multicultural perspective.