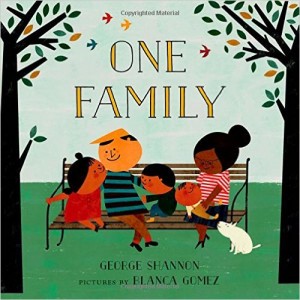 One Family by George Shannon and Blanca Gomez presents a fascinating introduction into counting with a twist. The reader meets many types of family; each is one example of one kind of family.
We discover that a family can include a range of individuals, colors, ethnicities, and even species and still be one family! This offers a delightful riff on inclusion when it comes to recognizing the many types of families that are common today–and a few more unusual ones. The concept is clear: each is one  example of a family. The story concludes,
"One is one and everyone.

One earth. One world.

One Family."
As adoptive families, we have a vested interest in this kind of acceptance and inclusion. The detailed and upbeat illustrations invite exploration–and counting–as well as identifying other "collective" nouns. Blanca Gomez, an internationally recognized illustrator, lives in Madrid, Spain.
AQ Lens: The obvious message that families need not look similar, is one that adoptive families are wise to reiterate on a regular basis. This story has a wonderful sense of joy and humor in addition to its message of tolerance and acceptance. Parents might want to highlight the Hispanic heritage of the illustrator as a way of raising awareness and overtly supporting diversity in our families, books, communities through in our purchases.
For more information on the We Need Diverse Books  movement, visit their official website.