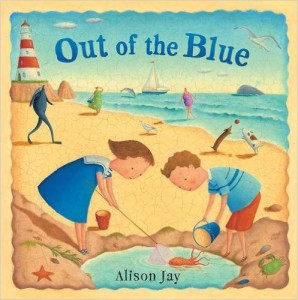 Out of the Blue illustrated by Allison Jay offers a unique reading experience. The story opens with an aerial view of a lighthouse which immediately arouses curiosity. Who lives there? And what is their story? There's no text; this allows the reader's imagination to soar.
We all know how kids love to spin a tale. This brilliant book provides an awesome vehicle for them to do so.
The next page turn reveals a boy and his dog peering from the window of the lighthouse tower.  Again, there is no text, only the opportunity for the reader to conjure a story.
The magic of this book is the unexpected and total absence of text. The story is revealed solely through exquisitely detailed illustrations which invite the reader to wonder a story line for each element. The main characters who are lucky enough to reside at the lighthouse are apparently brother and sister. We see their island adventures through sunny as well as stormy days.
In one dramatic sequence of illustrations they discover a giant octopus marooned on the beach after a raging storm. A closeup view centers on the octopus' eye; a single tear falls… The balance of the book depicts the children's efforts to rescue it and to encourage others to help in the effort. With heroic effort , the children and the unlikely team succeed in rescuing the giant creature.
An exceptional book, Out of the Blue provides a clear message of empowerment, teamwork, empathy and respect for animals. The back matter of the book includes fascinating information about giant octopuses and lighthouses.
Five Stars
Kids
Click To Tweet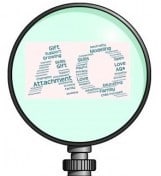 AQ Lens:  While all kids can enjoy the story-telling potential of this stellar book, Out of the Blue offers a powerful opportunity for parents to listen to their children's invented stories. The illustrations provide a wonderful channel  for kid's to reveal their private thoughts in a non-threatening way. For example, where the waves assault the tower, kids can tap into their own concerns about the "storms" in their lives, their fears, and how they cope. Parents will be amazed what they can discern between the lines of their children's narrative.
Along the same line, the panels which depict the octopus' struggle and need to depend on others for help will tap into similar deep emotions connected to the child's own history of struggle, etc. Each "reading" of this book has the potential to generate conversations between child and parent. Some will be deep; others might be silly or light-hearted. All will be a chance for the child/ren to have the stage and to experience being "heard," an all too rare occurrence in our hectic lives.