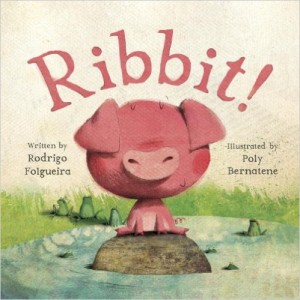 In Ribbit by Rodrigo Folgueira and illustrated by Poly Bernatene, readers meet a pig with personality and an interest in making friends in unusual places. At dawn one morning Pig announces her presence to a community of startled frogs. Suspicious and unwelcoming, the frogs demand that pig explain herself.
She booms her reply, "Ribbit." Instead of being impressed by Pig's language abilities, the frogs fear her. When the other woodland creatures question the frogs about their new member, the frogs quickly disown her, "She's no relative of ours." The brouhaha intensifies until  the chief frog suggests they consult the "wise old beetle." Even this suggestion is met with conflict and debate. Finally they visit Beetle and he agrees to return to the pond and unravel the pig's intentions.
When they all return to the pond, they find Pig has departed, leaving behind more questions than ever. The reader, however, knows the answer: Pig has set out to find another group, one that will welcome a pig for a friend.
AQ Lens: Adopted children frequently report feeling like an outsider. This book offers a wonderful metaphor for exploring those feelings of "other-ness" in a non-threatening way. There are many things to appreciate in this story. First, it easily lends itself to discussions that invite children to wonder about Pig's motives, to consider why the frogs are so overly cautious and inhospitable. Second, parallels between a child's own experience either as  the "new " arrival or as being on the flip side of the equation as "gatekeepers" of an established group.  
Explore feelings, discuss strategies, and suggest ways to smooth  social transactions to help children be more empathetic and welcoming. Mention different ways a child can be a friend, as well as the ways in which a child can "turn off" other kids. Ask kids what they seek in a friend and how they try to be a likable person. Many kids remain oblivious to social cues unless they are specifically taught and regularly reinforced.
It is worth highlighting that Pig does not allow herself to be "victimized" by the group's unwelcoming reception. Instead, she seeks out an alternate group and once again, dares to request entry into the group. (That kind of resiliency is a valuable life skill!)