Over the next few weeks, children across America will return to school. Though many will complain loudly, by summer's end, most children look forward to the return of a steady routine, being with friends and learning new things.
But. Not. All.
For some children school is a trial. Learning to read challenges and overwhelms them. While the rest of their class breezes through books, these unlucky kiddos face discouragement, teasing and major bruises to their self-image. No one wants to feel stupid. Click To Tweet For kids suffering from dyslexia, their difficulty in mastering this fundamental skill convinces them their learning difficulty means exactly this: in their own minds, they are stupid. Everyone else seems to master reading easily.
This is why I love Thank you, Mr. Falker, written and illustrated by Patricia Polacco. (Yes, that Patricia Polacco, the one who grew up to write & illustrated dozens of children's books which have won many awards.) It is the true story of Polacco's childhood struggle to learn to read. Dogged by bullies and plagued by her own self-doubts, Patricia grew to hate school. Every time I read this book, it makes me cry. The story conveys the girl's emotional pain with authenticity and empathy. The reader aches on behalf of Patricia as she strives to overcome dyslexia and rejoices with her when Mr. Falker identifies her "disability" and provides her with the tools she needs to learn.
He also helps her to recognize her exceptional talent as an artist. To a child feeling defeated and stupid, having a way to shine makes a huge  difference. We need someone to believe in us; often it's the key that enables us to believe in ourselves. Click To Tweet
Readers will enjoy the author's epilogue commentary describing her encounter with Mr. Falker thirty years later. He asked her what her occupation was. She replied, "I make books for children." They both appreciated the irony. This book is a glorious Thank You to the teachers who make a difference in children's lives and the kids who muster the courage to keep trying even when a challenge is truly daunting.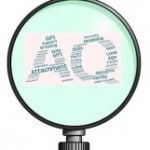 Adoption-attuned (AQ) Lens: Children who were adopted face the challenge of integrating their dual heritage (birth and adoptive) into a cohesive, healthy identity. They are familiar with the kind of determination and courage that it takes to keep trying even when a task is hard. they can easily identify with Patricia's yearning to be like her peers and to not be burdened with being different.   Thank you Mr. Falker provides hope because Patricia's story is fact not fiction. Click To Tweet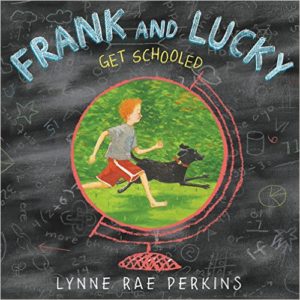 Frank and Lucky Get Schooled, written and illustrated by Lyn Rae Perkins shares the story of a boy and his dog–two lost souls in search of answers. They find those answers in each other. Along the way they discover lots of things about the world around them as well as about themselves.
Readers can race through this book or, read only a few pages at a time because the soft watercolor illustrations paired with word balloon comments invite conversations to digress along suggested story threads. No matter how experiments turn out, you always learn something.--Patricia Polacco Click To Tweet
Teachers will appreciate the many opportunities this book offers to show how school "subjects" exist beyond the confines of the classroom. For example, one illustration pictures Frank and Lucky in bed at various stages throughout the night with a line indicating how much of the bed Frank occupies and how much Lucky claims. Kids kids will never realize that's fractions in action. They will delight in the fascinating ways the lives of a dog and boy mirror one another. Frank and Lucky Get Schooled, injects a bit of  "education" in a novel way, one that demonstrates that the world is our classroom and life is the curriculum.
Another fun example asks, "If a chair is accidentally left pulled out from the table at 8:30 in the morning, how much cake will be left at 4:00 in the afternoon? … We won't know the answer until someone comes home. And then it will be a history question."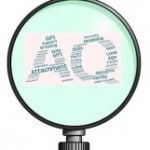 Adoption-attuned (AQ) Lens: Each of the activities shared by Frank and Lucky can be mimicked to reflect a reader's personal world. For example, they can create maps of their room, house, or neighborhood. For that AQ* flair, they could  choose a location from either their birth or adoptive home.
Or, they may tackle some "history" questions about their own lives. These can be serious or lighthearted; be sure to let the child decide which it will be.