Shades of Black: A Celebration of Our Children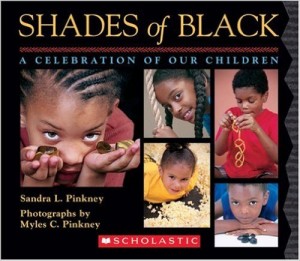 is also written by Sandra L. Pinckney with photographs by Myles C. Pinkney. It  is a delightful book that examines race from a slant of color appreciation. In direct contrast to the popular (but ill-placed notion*) of adoptive parents seeking to create "color blind" families, Shades of Black asks the reader to notice race and to notice the diversity that racial identity includes.
The text is a rich blend of vivid and unexpected metaphor. The accompanying photographs bring these novel images to life. The book's premise is presented with respect and warmth and depicts the spectrum of skin tones of children who identify themselves as black. All families can benefit from reading it as a great way to explore race. Black children will especially appreciate the message of inclusion and celebration which the book offers.
Shades of Black: A Celebration of Our Children      
AQLens: As often stated in this blog, whether we are transracial families or not, adoptive families have a vested interest in cultivating tolerance, inclusion and multiculturalism. We are poster families for "difference" and frequently face the challenges of people questioning the validity of our families, posing intrusive/offensive questions and imposing expectations of gratitude (on our children,) and heroism (on us, for "rescuing" our kids.)
Beyond the obvious message of appreciating the rainbow of humanity's color, this book invites discussion of race, of difference, of acceptance and of respect. Some might argue that the book reinforces the belief that anyone of a mixed heritage which includes only the slightest bit of African-American ancestry might more accurately consider themselves of mixed race and not simply as black. These are important topics for adoptive families yet they are not easy to introduce; this book offers an excellent gateway.
*Integrating a child's birth heritage Once a child joins a family, his heritage is grafted to the entire family. It is not something that pertains only to him; the entire family honors and lives it. Beyond an occasional ethnic meal, trip to an exotic restaurant or occasional reading of a cultural fairy tale, families must immerse themselves as deeply as if it were their own natal heritage.
Transracial families must actively develop friendships and expose kids to mentors that share their race. Parents must foster a spirit of curiosity and learning around race. Recognize that a transracially adopted child's experience as he journeys through the world will differ from yours. Moreover, because of the reality of white privilege, it will vary when you are with him and when he is on his own. Validate his experiences. Help him develop skills and tools to successfully navigate his challenges. Have conversations that empower. Don't simply fan angry feelings. Avoid the fantasy of "color blindness." Instead, foster color appreciation. Treating race as if it were irrelevant sends the hurtful message that it lacks value and importance.
Parents and children must walk in one another's worlds and share the experience of being the minority. Teach kids how to handle prejudice. Explain your coping strategies. Be straightforward about the challenges. Acknowledge the reality of discrimination and work together to prepare them to face a world that notices the skin we are in. Read more of this earlier blog post.