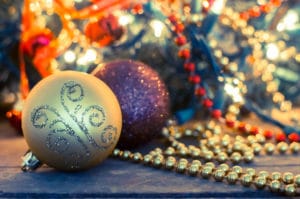 Airwaves thrum with familiar holiday tunes and shoppers crowd stores, it is easy to lose the true meaning of Christmas in the quest for the perfect gift. We must appreciate our holiday blessings and see beyond the attention-grabbing sparkle of tinsel and trinkets. We know our most valuable treasures are not wrapped in bows and fancy paper. They reside in our significant relationships, memories and good times shared with those we love and care about. These two books focus on true blessings whose value far exceeds dollars and cents. They depict the Christmas spirit of welcome, generosity and compassion and they highlight the transformative power of acts of kindness both small and large. In our hearts we know that the power of the season lies in the celebration of  "Peace on earth, good will to men." When that ideal is fulfilled we will be truly blessed.

Although not about Christmas, The Blessing Cup  written and beautifully illustrated by acclaimed author-illustrator Patricia Pollacco offers a lovely holiday read. It recounts the history of a treasured family heirloom–a china teacup which belonged to her great-grandmother, Anna. It was a part of a surprise wedding present arrived–a magnificent and delicate china tea set which  Anna's parents received as newlyweds. An enclosed gift card enclosed promised, "Anyone who drinks from [this tea set] has a blessing from God… Their lives will always have flavor. They will know love and joy."
Life in the shtetl was difficult. In the face of poverty and worsening persecution, Anna's family treasures the tea set. Eventually,the Russian czar orders all Jews to leave, so they pack the tea set along with a few meager possessions. When Anna questions why they must leave, her father replies, "Because we are different from them.... They are afraid of what they don't understand. Click To Tweet" (The connection between the "No-room-at-the-inn theme of the Christmas story is obvious as is the similarity to current political climate and attitude towards immigrants and "Others.")
The story continues and follows the family's travails. Papa falls dangerously ill. In another parallel to the Christmas story, his life is saved when someone–a kind-hearted doctor–welcomes them and invites them to stay with him. When the political climate becomes too dangerous for the family, the doctor pays for their passage to America. The treasured tea set is the only thank you they can offer for his generosity. They leave this note, "Always remember, dear friend, You are the bread that fed us. You are the salt that flavored our lives…. We kept one cup so that we can still have its blessing…" Patricia Polacco still possesses–and treasures-this precious cup.
This poignant, true story serves to convey the spirit of joy and love that underlies the nativity story and highlights how small acts of kindness can transform heart, minds and, lives. It also reminds us that "things" can hold deep sentimental value that far exceeds their literal value.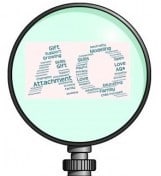 Adoption-attuned Lens: This book can open conversations about who is family as well as discussions about the very real challenges some people face in life. In the absence of an "angel" like Dr. Pushkin, Anna's great-grandmother's story might have ended tragically.  The Blessing Cup  also vividly demonstrates how something can be a vessel of important sentimental value. It can segue into talking about how almost anything can operate as a trigger of vivid memories, some of which may reassure while others might be quite painful.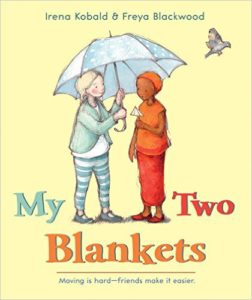 My Two Blankets  written by Irena Kobald and illustrated by Freya Blackwood is another story that captures the Christmas spirit without being about the holiday itself. The story follows a child who must move. Moving is never easy. Children will readily empathize with this challenge. But My Two Blankets is not about an ordinary move from one neighborhood or one state, but a move from one country to another which magnifies the uprootedness experienced by a young girl who had been so full of joy that her aunt nicknamed her  "Cartwheel." When she emigrates her war-torn country, Cartwheel feels overwhelmed, confused and sad.  She misses the familiar sights, smells and language of home. "Even the wind felt strange." She no longer feels like herself. To escape the outside world, Cartwheel wraps herself in her favorite blanket.
Eventually she meets another child who strives to befriend her. They share a smile, Cartwheel holds back and resists the girl's overtures. The girl overcomes Cartwheel's caution and they play together on the swing. They meet several times. Cartwheel yearns to tell the girl that she's glad to have her as a friend but she can't speak the language. The girl's English words land on Cartwheel's ears, hard and indecipherable. Fear and longing for the comfort of her old life bubble up within her. Frustration and loneliness turn to anger. Cartwheel ponders "When I went home, I hid under my old blanket. I wondered if I would always feel sad. I wondered if I would ever feel like me again."
When she returns to the playground, her new friend is not there. Cartwheel is surprised by her own disappointment and overjoyed when the girl returns with carefully folded pieces of paper. Eventually, they bypass the barrier of language and connect. Cartwheel weaves a "blanket" from the papers on which the English words are written. She comes to understand "My new blanket grew just as warm and soft and comfortable as my own blanket."
Compassion and acceptance offered by the girl in the park transformed Cartwheel's life. Click To TweetThis child's actions embody a "room-at-the-inn" approach that fulfills the Christmas message.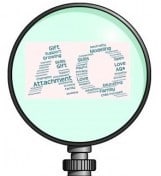 Adoption-attuned Lens: This book can open important conversations for adoptees–especially those adopted trans-racially or trans-culturally. Adoptees often talk about feeling isolated from their birth culture/race and struggle to learn how to absorb and integrate this part of their identity. Due to current political climate regarding immigrants and other races, many kids worry what this… Click To Tweet My Two Blankets can help start the conversation that will enable parents to reassure their children.