A Hand to Hold by Zetta Elliott and illustrated by Purple Wong. I find many things to recommend about this book. The little girl enjoys both her parents but the story focuses on the loving father-daughter relationship. The girl sees her father as strong, loving, encouraging and compassionate. Though she's "not a baby anymore," she still reaches for his steady hand when he "blinks his hand…open, closed, open, closed." His hand provides her comfort.
It is Daddy that accompanies her on her momentous first day of school. With her "heart going BOOM BA-BOOM BA-BOOM," He leads her into the classroom. He encourages her to confront her fear, to be brave and join the world of the classroom.
When Daddy heads for the door, she's left with only her own hand to hold, her own courage to trust. The teacher introduces the girl to Ginny, a girl with tear-streaked face. Our heroine recognizes that Ginny looks "sad and a little bit scared." She knows how steadying holding hands can be so she offers her hand to Ginny in a gesture of friendship. Together, they both feel steadier, stronger and ready to play. The story reminds me of the adage that you have to leave the shore to reach the opposite bank.
This is a wonderful getting-ready-to-go-to-school-for-the-first-time book. Still, I do have two criticisms. First, I wish that the author had provided a name for our heroine because I think it would make her feel more real. Second, in the scene where they enter the classroom when Daddy tells her "Don't be afraid." Adults often advise kids that they shouldn't feel cry (feel sad, lonely, etc.) While well-intentioned, this invalidates the child's emotions, judges them as wrong or inappropriate. Children are better served by acknowledging their emotion (in this story, her fear.) Parents can then help kids cope with and move forward to a steadier emotional state. Perhaps this sounds like hair-splitting. In fact it teaches kids to recognize, own and then shift their emotions. This kind of emotional literacy is a vital social skill.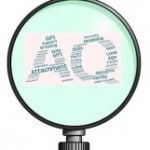 Adoption-attuned (AQ) Lens: All kids must face their first day of school; kids adopted at an older age also have to face the first day in a new family. Many similar emotions are reflected in this story. So conversations can easily diverge to talking about those memories as well as the ongoing challenges of growing into a new family.
 School Days around the World by Margaret Ruurs and illustrated by Alice Feagan shows readers that school means much more than a building or a classroom or a specific curriculum or course of study. The world serves as a school. And "classrooms" around the world may look different from the ones with which they are familiar.
At their core, however, schools have much in common. They teach the fundamentals of language, reading, mathematics, physical education and cultural traditions like music and arts. Human beings share the same basic needs, so the specifics may differ from country to country, but the purpose of education remains the same: to open minds and touch hearts and provide for the common good.
Simple illustrations depict kids being kids and reinforce the point that we have more in common with one another than may first appear to be the case. Readers will enjoy learning about the variety of games, musical instruments and "classrooms" in which children around the world attend school. A fun and informative read.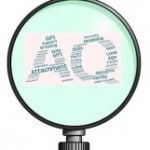 Adoption-attuned (AQ) Lens: This book provides an easy way to discuss transcultural and transracial differences. The story also mentions orphanages in Kenya. (Although it does not mention the AIDS crisis it does say that the children are there because their parents died.) For adoptees who spent time in orphanages, this might be a valuable part of the story to explore.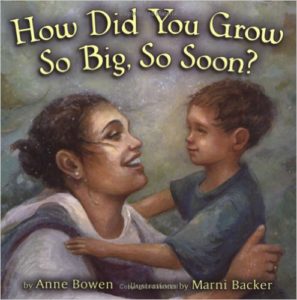 As a little boy prepares for bed the night before his first day of school Mama comments  How Did You Grow So Big, So Soon? Thus begins a story that reminisces about the  ways in which the boy has grown and catalogs the variety of skills he's accomplished. The recounting of this history reassures both of them. Anne Bowen's text unfolds in a question and answer format. The boy poses them and Mama replies. She reminds her son that his successes resulted from persistence and learning through many failures: "You stood up and tried again."
This message that success results only through persistence is crucial for kids to understand. School won't be easy but it will be worth it. And they are capable of achieving success.
Mama and the boy talk about how the day will unfold, what he can expect and how he will cope. He asserts, "I'm not little anymore, Mama" as a refrain which both comforts and encourages him. Mama also reassures him that though she'll miss him while he's gone, she'll be comforted by his presence in her heart. He need not worry about her. She will be fine and so will he.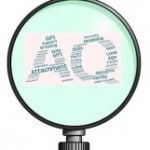 Adoption-attuned (AQ) Lens: Transitions can be challenging for  adopted children. Leaving the security of home and entering the unknown world of school can be more intimidating for our kids. This book specifically refers to being pregnant with the boy: "I knew your heart first, beating beneath mine, a tiny fist curled inside me." This may prove to be uncomfortable to an adoptee or it might provide s chance to talk about  a child's birth mother, birth family, etc..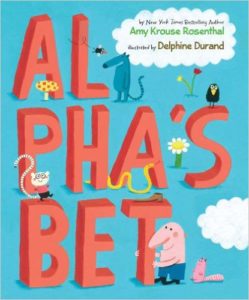 Al Pha's Bet by Amy Krouse Rosenthal and illustrated by Delphine Durand delivers a silly, engaging explanation for how the alphabet came to be arranged in the familiar order. We all know how kids like to reread their favorite books often until they can "read" it from memory and we parents are just barely hanging on to our sanity.
Kids love zany, hyperbolic explanations like the one this story delivers. They might actually find the story line useful to help them remember the alphabetical sequence. At the very least, they'll laugh at the silly story which will help lighten their hearts as they contemplate the beginning of the school year.

Our theme for today's Diverse Children's Books linkup is Diverse Books for Back to School. Please consider writing and sharing your favorite books either about school / back to school or that might make a great read aloud during those first few weeks of school. (The theme is only a suggestion. Diverse posts on alternate topics are still always welcome.)
What's Is #diversekidlit?

Diverse Children's Books is a book-sharing meme designed to promote the reading and writing of children's books that feature diverse characters. This community embraces all kinds of diversity including (and certainly not limited to) diverse, inclusive, multicultural, and global books for children of all backgrounds.
We encourage everyone who shares to support this blogging community by visiting and leaving comments for at least three others. Please also consider following the hosts on at least one of their social media outlets. Spread the word using #diversekidlit and/or adding our button to your site and your diverse posts.
We hope this community will grow into a great resource for parents, teachers, librarians, publishers, and authors! Our next linkup will be Saturday, August 6th and on the first and third Saturdays of every month.
Upcoming Themes
Our theme for the current linkup (beginning Aug. 6th) is Diverse Books for Back to School. Themes are a suggestion only, all diverse book posts are welcome. If you're interested, you can start planning now for our upcoming themes …
August 20th linkup: Favorite International Book(s) for Children. Share your favorite book or books that take place in a different country!
September 3rd linkup: Diverse Book(s) Featuring a Character with a Disability. (Need ideas? Check out past winners of the Schneider Family Book Awards.)
Most Clicked Post from Last Time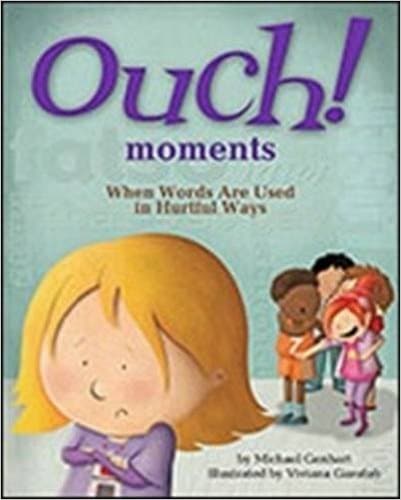 Our most clicked post from the previous #DiverseKidLit linkup comes from author Gayle H. Swift: The Essential Life Lessons We Must Teach Children. Gayle shares her thoughts about some of the most important lessons we teach children, as well as a detailed review of two great books to use with kids. This is a useful resource for teachers and parents alike!
#DiverseKidLit is Hosted by:
Katie @ 
The Logonauts
Blog
/
Twitter
/
Facebook
/
Pinterest
Beth @ 
Pages and Margins
Blog
 / 
Twitter
 / 
Facebook
 / 
Pinterest
Carolina @
La Clase de Sra. DuFault
Blog
/
Twitter
/
Facebook
/
Google+
Gayle Swift, Author of
ABC, Adoption & Me
Blog
/
Twitter
/
Facebook
/
Google+
Jane @
Rain City Librarian
Blog
/
Twitter
/
Instagram
Marjorie @
Mirrors Windows Doors
Blog
/
Twitter
/
Facebook
/
Pinterest
Mia @ 
Pragmatic Mom
Blog
 / 
Twitter
 / 
Facebook
 / 
Pinterest
 / 
Instagram
Myra @ 
Gathering Books
Blog
 / 
Twitter
 / 
Facebook
Shoumi Sen, Author of Toddler Diaries
Blog / Twitter / Facebook
Want to be notified when the next #diversekidlit linkup goes live? Click here to join the mailing list. Interested in joining as a host or an occasional co-host? Contact katie at thelogonauts.com.
(Never participated in a linkup before? Please click here for a more detailed step-by-step.)
Get #diversekidlit Recommendations on Pinterest!
We've started a new group board on Pinterest to highlight all the amazing posts and resources for Diverse Children's Books. Please consider following the board for even more great books!