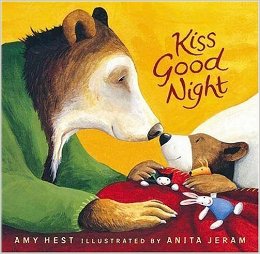 In Kiss Good Night by Amy Hest and illustrated by Anita Jeram invites readers to peek in on one little bear's resistance to falling asleep. It's a scenario familiar to every child and parent so kids will readily respond to it. Jeram's illustration are warm and evoke an intimate tenderness between Mrs. Bear and little Sam. As you can see, the cover shows mama and bear nose to nose. Her arm rests gently on his tummy. A red blanket is snugged up to Sam's chin while he cuddles an armload of stuffed toys. A beautiful vignette.
She oozes patience–in a measure we all good follow–and shows how important each detail of a bedtime ritual is essential to little bear.  Bear insists that the ritual be followed in perfect detail. Eliminating anything is utterly unthinkable, especially on a "dark and stormy night!" This sweet story reminds parents that any attempts to short-circuit beloved bedtime rituals are undertaken at their own risk!
The illustrations are the powerhouse of this book. In some spots the text feels awkward, for example, "the blanket was red" versus simply calling it a red blanket. Nonetheless, the book will delight readers and parents alike as they share their own family bedtime ritual and enjoy the soothing comfort  that repetition and ritual sustain.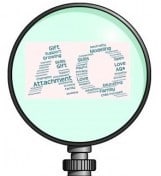 Adoption-attuned Lens: Kids with trauma histories need and benefit from the reassurance and familiarity of family routines. This includes not only bedtime rituals but other daily and cyclical patterns that create a structure that establish a sense of being enfolded in ways on which kids can reliably and predictably depend. Routines and rituals can include elements that engage all of the senses: music, food, fragrances, touchable props, etc. Become aware of all the "ingredients" that a ritual includes. Be intentional in creating  routines that can promote security, bonding and healing.
Here are additional books featuring Sam.