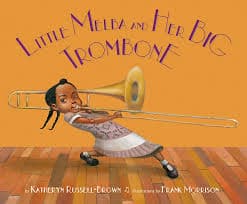 Children love banging out music. From their first toddler foray wielding spoon against a pot or a pan, they respond with joy, enthusiasm and persistence. But for some kids music offers much more than an outlet. It is who they are and how they connect to their deepest feelings and express themselves. Melba Liston was one such child. She connected with her talent at a very young age. Little Melba and her Big Trombone by Katheryn Russell-Brown illustrated by Frank Morrison is based on her life.
Born in 1926 in an environment filled with jazz, blues, and gospel, music  dominates her life. Eventually it brings her all over the world. Music also presses Melba to face the realities of prejudice and racial separation that dominated that part of history. Melba's story inspires and  glows with the power of following one's passion, the thrill of fulfilling one's dreams. She overcame great difficulty not only in terms of personal challenges but also in terms of the racial realities of that era. This serves as a model for the power of vision, commitment and determination. Her success was not magical nor without challenges.  It occurred as a result of hard work.
Morrison's award-winning** illustrations brilliantly further the story.  The effort and energy Melba expended come alive in the pictures. Dwarfed by her trombone, seven-year-old Melba struggled to master it, to release the music that lay dormant in the instrument. Her family encourages her to dare to be the best musician she can become, to take risks,  and to ignore those who would try to hold her back. Melba blazed a trail for female musicians. "She was one of the first women, of any race, to become a world-class trombone player." The story clearly portrays the immense power of an innate talent and how compelled a child feels to develop her abilities.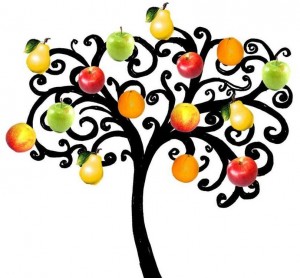 The AQ* (Adoption-attunement Quotient) potential in this story is easy to capture. This story celebrates a child's innate talents and it highlights how her family encouraged and helped develop her gift. As adoptive parents we have the same opportunity– a duty really– to look for the hidden talents that lie within our children–the gifts of their genetic heritage. Some families may find this effortless to accomplish. Perhaps their child's talents meld right in with the generational patterns of the family, for example, when an athletically-gifted child is adopted into a sport-loving family.) Or, the opposite might be true a bookish, creative child more at ease with a journal,  drawing pencil or paintbrush joins the same family.  This mismatch can be a source or tension or it can be an opportunity to broaden the family's identity, to embrace this new "flavor" to notice and appreciate it. Whether it is a stretch or a no-brainer match, a child's talents are a blessing, a light to be fostered and nurtured. One of the greatest gifts we can give a child is to validate them–their thoughts, feelings, talents and their differences. When our children were grafted to our family trees, we all became permanently linked, permanently changed.
In Florida, where Casey and I live, nurseries frequently graft varieties of trees. One popular  creation is called a "cocktail tree*." Farmers choose  a sturdy, vibrant citrus tree and then graft branches of limes, oranges and lemons. When the mature tree blooms and fruits, it produces not only the fruit of the parent plant. Each branch remains true to its DNA: the orange branch produces oranges; the lime branch yields limes and the lemon branch bears lemons. Nurtured by the strength of the root stalk, each of the grafts reaches maturity as a healthy expression of its potential. I would assert that this is what we wish for our children: that they become the best version of themselves instead of a hollow imitation of  an idealized set of expectations.
*In other parts of the country a similar process produces fruit salad trees that include apple varieties or other fruit combinations.)
** (He won the Coretta Scott King Honor Award for 2105.)