Join @MCChildsBookDay Jan 27, 9pm EST for MCCBD Twitter Party! #bookgiveaway #ReadYourWorld https://t.co/OPojqB6Wui pic.twitter.com/Mt0KqLrapi

— Jo Ann Kairys (@JoAnnKairys) January 26, 2016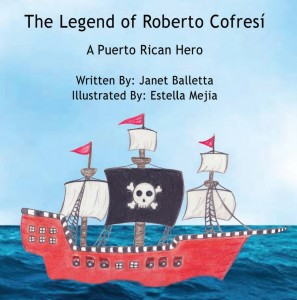 The Legend of Robert Cofresí is the second book which award-winning author Janet Balletta has written. Artist Estella Mejia illustrated both books in a colorful primitive style reminiscent of children's drawings. Kids will enjoy the tale of  Roberto Cofresí, the swashbuckling anti-hero  from Puerto Rico. Like Robin Hood, he confiscated treasure from the wealthy and shared it with those in need. Legend says the people of Puerto Rico conspired to help him avoid capture from the authorities. Today, Cofresí is revered in Puerto Rica as a popular hero.
Young readers will enjoy learning about Cofresí's adventuring on the seas, seizing treasure and burying it. Some might imagine themselves as treasure hunters seeking Cofresí's still undiscovered hidden treasure. Such grand adventures might spark an interest in acquiring the science and oceanographic skills that might enable them to pursue the hunt.  The story is narrated by a night-shift working dad. Though weary and ready for bed, he takes the time to share the legend with his sons. Along the way he explains the unfamiliar vocabulary. For  example, the story describes Cofresí as a corsair  not as a pirate. Four stars.
Janet 's  first book, The Legend of the Colombian Mermaid  **Winner of 2015 Mariposa International Latino Book Award** and won Second Place in the 2015 International Latino Book Awards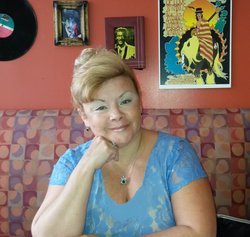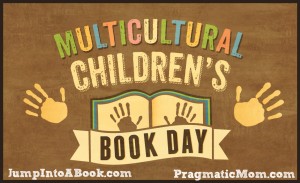 Multicultural Children's Book Day has 12 amazing Co-Hosts. View them here.

The Mission of Multicultural Children's Book Day is: to spread the word and raise awareness about the importance of diversity in children's literature. Our young readers need to see themselves within the pages of a book and experience other cultures, languages, traditions and religions within the pages of a book. We encourage readers, parents, teachers, caregivers and librarians to follow along the fun book reviews, author visits, event details, a multicultural children's book linky and via our hashtag (#ReadYourWorld) on Twitter and other social media.

Multicultural Children's Book Day 2016 Medallion Level Sponsors!
Platinum: Wisdom Tales Press, Story Quest Books, Lil Libros
Gold: Author Tori Nighthawk, Candlewick Press Bharat Press
Silver: Lee and Low Books, Chronicle Books, Capstone Young Readers New York Media Works,LLC/KidLit TV
Bronze: Pomelo Books, Author Jacqueline Woodson, Papa Lemon Books,
Goosebottom Books, Author Gleeson Rebello, Shout Mouse Press,
Author Mahvash Shahegh, China Institute.org, Live Oak Media
Multicultural Children's Book Day has 12 amazing Co-hosts and you can view them here.
Teachers, we invite you to spread the word to your teacher/librarian/classroom connections so; get them involved in this program. There is no cost to teachers and classrooms. You can help by tweeting the below info:
Teachers! Earn a FREE #Multicultural Kids Book for Your Classroom!
#teachers, #books #teacherlife  http://ow.ly/UUy96
The Classroom Reading Challenge has begun! Teachers can earn a free #Diversity 

book! #teachers, #books  http://multiculturalchildrensbookday.com/?p=1796​
Classroom Reading Challenge:Help spread the word on our  Classroom Reading Challenge . This very special offering from MCCBD offers teachers and classrooms the chance to (very easily) earn a free hardcover multicultural children's book for their classroom library. These books are not only donated by the Junior Library Guild, but they are pre-screened and approved by them as well.
Introducing our Author Sponsors for MCCBD 2016!
Lisa Yee, Joseph Bruchac, Jacqueline Jules, Valerie Tripp, Debbie Dadey, Todd DeBonis, María de Lourdes Victoria, Sherrill Cannon, Pack-n-Go Girls®, D.G. Driver, Janet Balletta, J. J. Parsons, Charlotte Riggle, Miranda Paul, Leza Lowitz, Ann Berlak, Marti Dumas, Carl Gundestrup, Carole P. Roman, Cathleen Burnham, Heidi Smith Hyde, Greg Ransom, Keila Dawson, Stephanie Workman, Gloria D. Gonsalves, Stephen Hodges, Quentin Holmes, Jeaninne Escallier Kato, Karl Beckstrand, Francesca Fost, P.J. LaRue, Francesca Forrest, Diana Lee Santamaria, Terrie Hoops, Cerece Rennie Murphy, Z. Altug, Holiday House Publishing, Maria Dismondy, Michael Smith, Icy Smith, Aphrodyi Antoine, Elsa Takaoka, Erik Niel, Marimba Books, Karen Leggett Abouraya, Shout Mouse Press, KaneMiller EDC Publishing, Shweta Aggarwal, Durga Yael Bernhard, LorRonCo, Heather Goetz, Dania Ramos Daryl OConnell, Zetta Elliot,Effie Hill,Firoozeh Dumas ,DuEwa Frazier, Ben Woodard,Susan Ross, Sandra L. Richards, Dania Santana, Author Kala Sambasivan, Elizabeth Atkinson, Houghton Mifflin Harcourt for Young Readers, Scavenger Hunt Adventures, Year of the Cat Books,Sarah J. Stevenson,Gayle H. Swift, Patrick Hill, Bruce Hale,