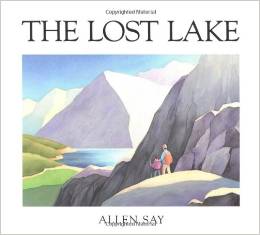 Two books that capture the special connection children share with their dads are Lost Lake written and illustrated by Allen Say and  Enemy Pie written by Derek Munson and illustrated by Tara Calahan King .
In Lost Lake, a boy visits his overly-busy non-custodial father and finds himself craving a more intimate experience, one that moves beyond merely sharing the same residence. Both father and son struggle to express their thoughts and feelings in words. When Luke cuts up his dad's magazine and tapes them to the wall, it takes two days before father notices. When Dad finally does, the boy asks, "Are you angry with me, Dad?" The dad dismisses the damage as meaningless "I'm having the place painted anyway."
Luke thinks to himself, "He thought I was talking about the marks on the wall." This line implies so much poignant emotion. Whether in a divorced family or not, kids will readily identify with the feeling of invisibility and the yearning for focused one-on-one time with a parent.  In typical child-thinking, the boy assumes the blame for his dad's aloof behavior  and is saddened that Dad apparently thinks the question refers to the wall. Believing his Dad missed the point, the boy still wonders why Dad doesn't talk to him, wonders what he did to make his Dad angry and wonders how he can grab Dad's attention.
As the story continues, we discover that Dad understood much more. They embark on a week-long journey to find Lost Lake. They discover so much more about themselves and their relationship. Persisting through set backs, pushing through the challenges, they trek on–together, in pursuit of a common goal. Their journey brings deeper understanding of themselves and a closer bond.
I liked this book because it depicted a non-custodial dad working to connect with his child but not in a common Disney Dad activity. Instead he chooses a less-chosen path and that makes all the difference. The exquisite water colors provide a lovely touch for the delicate tone of this book. I rate this five +++++.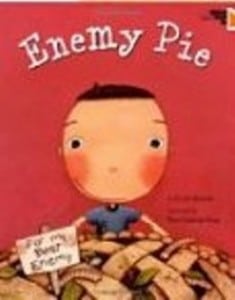 Enemy Pie tackles a common experience for kids: a new child moves into the neighborhood and upsets the delicate balance of  friendships and comes between best friends.
Learning to cope with the quicksilver changes of childhood allegiances is something all children face. They feel the betrayal, the confusion and the anger. Kids will understand the boy's desire to wreak revenge–in the form of a huge slice of Enemy Pie– on the intruder.
What the boy never sees coming, is the magic of Enemy Pie lies not in the ingredients, but in the journey leading up to its being served.
In the vein of the classic Stone Soup, Enemy Pie delivers an unpredicted and satisfying conclusion to the boy's dilemma. Dad creates a transforming experiencing without a single bit of preaching. Enemy Pie showcases Dad Wisdom at its best.
Both of these wonderful books reinforce the important role fathers play in their children's lives. Buy or borrow a copy to share with your family today.