Yearning for acceptance, apprehension about difference, the search for common ground…Here are three books which tackle these big concepts with humor and emotion. They open perspectives and minds while entertaining. Great selections for readers of ANY age.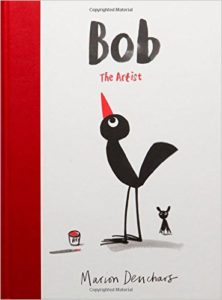 Embarrassed by his appearance, Bob, the gangly main character of Bob the Artist by Marion Deuchars strives to fit in with his short-legged peers. He tries several approaches to alter his appearance: exercise, diet, and costume. Still he peers continue to tease him. Fitting in is exhausting work.To escape his peers' relentless teasing, Bob roams the neighborhood alone.
Until… he wanders into an art museum. Inspiration strikes. Convinced that this camouflage will distract the other birds and end the bullying he decides to transform his lovely red beak into works of art that honor the famous artists featured in the museum.
Bob discovers he has a talent for art. (Kids won't even realize that they're receiving an art history lesson as a bonus!) Proud of his talent, he comes to realize he no longer cares about the rude taunts. He's happy with himself.
This delightful book entertains and makes its point so well. Young readers will understand two things. First, they can–and should–choose kindness and inclusivity. Second, they need to value their own talents and gifts. This must be done without a sense of superiority but simply as affirming everyone has value.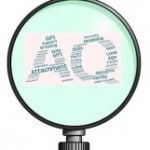 Adoption-attuned (AQ) Lens: As I have written many times in other posts, adoptive families have a vested interested in expanding our culture's definition of what is "real", "normal" and, "acceptable" Kids naturally yearns for acceptance, fear being ostracized and judges as different. As parents and teachers, we have the chance to teach kids how to own their own uniqueness and how to value the differences of others.
In the story, Bob's legs caused him to be "othered." As adoptees, kids experience a level of "otherness" that cuts deep. Non-adopted children and adults often lack appropriate language to express their thoughts and questions and therefore unintentionally say or ask things that come across as especially cruel. Adoptees benefit from adult help in learning how to listen for the speaker's motive. Giving them the benefit of the doubt may be overly generous; it also may assist our kids in having the confidence to speak up for themselves and "set things right."
Bob the Artist is delightful and easily lends itself to deep conversations on many topics in addition to adoption.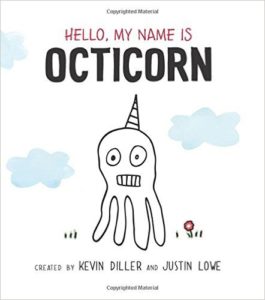 Hello, My Name Is Octicorn by Kevin Diller and illustrated by Justin Lowe invites readers to consider befriending Octi, a creature whose mom was an octopus and whose dad was a unicorn.  Octi has trouble finding friends because he is so unique. Everyone shuns him. Because they fear his differences, they miss out on the pleasure of knowing him.
Octi showcases his many unique talents he has because he is half unicorn and half octopus. At parties he can juggle and dance with the best. At campfires he can toast marshmallows on his horn!…if he were invited. Ah, but that is the situation. Octi doesn't get invited.
After presenting his case, Octi concludes his story with an invitation: "Will you be my friend? Yes or No?" This is brilliant writing because the question lands directly in the reader's personal world. And hopefully, in their heart. Octi challenges them individually. They must make a choice–even if only in their mind. Will they choose friendship or rejection?
Justin Lowe's quirky, unsophisticated, child like illustrations further the sense that this story is a personal conversation between Octi and the reader. This is a short, easy read with a message that packs an important punch.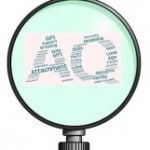 Adoption-attuned (AQ) Lens: This book has an obvious and easy segue into discussions of  the challenges, realities and benefits of being biracial and/or multiracial. So, kids who are bi-racial or multi-racial may feel a special resonance with the theme of this book. One illustration shows a genealogical diagram depicting Octi's parents. (Dad is a unicorn; mom is an octopus.) This illustration might lead to conversations about the heritages of each birth parent. Parent and child can discuss both the reality and the cultural beliefs of both groups.
The book highlights the benefits of Octi's dual heritage. This is an important point for all adoptees. There is a richness that comes from muti-ethnicity. We see it as an additive experience instead of as a subtractive one.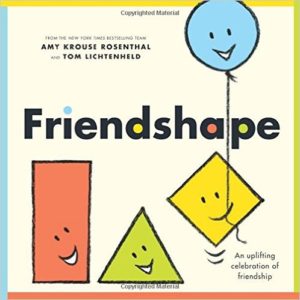 Friendshape–An Uplifting Celebration of Friendship by Amy Krouse Rosenthal and illustrated by Tom Lichtenheld asserts that friends "shape who we are." They provide many benefits. They help us divide our troubles,  create fun, share our celebrations, and stand by us in good times and in bad. They remember to apologize and forgive each other. That's a lot of goodness!
But the real message of this book is: Friends do not have to look alike. And yet both children and adults struggle to learn to befriend individuals whom they perceive as "other." In fact their differences often help us in significant ways. They influence to grow and change in response to the relationship.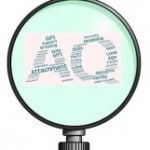 Adoption-attuned (AQ) Lens: Adoptive families will find an easy and obvious segue to discussions about racial and cultural differences among friends and even families. How do these differences inform who we are and how we interact with one another? How does difference influence the way our families are received in school? Whom we choose to befriend? How does the way our friends view us and our families influence our own inner dialog as well as the interactions we all share.