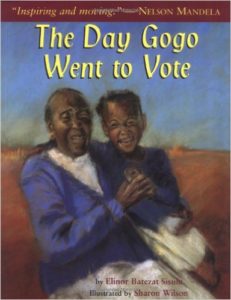 TV coverage on the upcoming presidential election floods the airwaves. Children  will certainly recognize importance of voting. Most kids naturally assume that all citizens have the right to vote and that it has always been the case. When children learn that in the past women were banned and minorities were barred from voting, kids are puzzled and shocked by this unfairness.
Unless we share the history of the rocky road to universal suffrage, kids will be completely unaware of the sacrifices made by courageous individuals to ensure that women and people of color had both the legal right and the actual access to cast their ballots. In many countries, including our own, the right to vote did not come easily.
Narrated through the voice of six-year-old Thembi's eyes, The Day Gogo Went to Vote is set in South Africa. It shares a tender, universal story of the bond between a grandchild and Gogo, her beloved grandparent. Their bond is deep and affectionate. Little Thembe is concerned by her Gogo's declining health. After recovering from a serious illness, Gogo no longer leaves her home. She falls too weak even to attend church; instead, the priest comes to her
Imagine Thembe's shock when she hears 100-year-old Gogo announce she will take the bus to the poll and insists that show will walk if she has to do so. No matter what it takes, she will vote. The little girl is stunned by Gogo's vehemence and her passion. From her grandmother's stance Thembe understands voting is a very important right. Children will be amazed to learn that the events in this story occurred, not long, long ago but in April 1994 after most of their own parents were born.
Although set in South Africa, this story can easily open conversations about various groups in America who had to struggle for their right to vote. Written by Elinor Batezat Sisulu and illustrated by Sharon Wilson.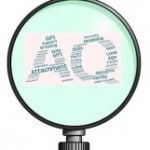 Adoption-attuned Lens:
Adoptees benefit whenever they reduce feelings of isolation or of being the only one who faces being "othered." One way to create this sense of shared experience is by learning that there have been many groups who have faced the  trauma of being "othered," of being treated differently because of the way one's family was formed, or one's gender, faith or race. This heart-warming book illustrates that one can succeed in the face of huge difficulties and defeat the prejudices and limitations which cultures impose. It is possible to expect and receive the full measure of one's rights as person and as a citizen.
Our theme for today's Diverse Children's Books linkup is Favorite International Book(s) for Children. Share your favorite book or books that take place in a different country than where you live! (The theme is only a suggestion. Diverse posts on alternate topics are always welcome.)
What Is #DiverseKidLit?

Diverse Children's Books is a book-sharing meme designed to promote the reading and writing of children's books that feature diverse characters. This community embraces all kinds of diversity including (and certainly not limited to) diverse, inclusive, multicultural, and global books for children of all backgrounds.
We encourage everyone who shares to support this blogging community by visiting and leaving comments for at least three others. Please also consider following the hosts on at least one of their social media outlets. Spread the word using #diversekidlit and/or adding our button to your site and your diverse posts.
We hope this community will grow into a great resource for parents, teachers, librarians, publishers, and authors! Our next linkup will be Saturday, September 3rd and on the first and third Saturdays of every month.
Upcoming Themes
Our theme for the current linkup is Favorite International Book(s) for Children. Themes are a suggestion only; all diverse book posts are welcome. If you're interested, you can start planning now for our upcoming themes …
September 3rd linkup: Diverse Book(s) Featuring a Character with a Disability. (Need ideas? Check out past winners of the Schneider Family Book Awards.)
September 17th linkup: Favorite Bilingual Book(s). Think about your favorite book or books that are published in bilingual (or multiple language) editions.
Most Clicked Post from Last Time
Our most clicked post from the previous #diversekidlit is Top Ten Tuesday: Books Set Outside of the United States (By Continent) from Ricki and Kellee at Unleashing Readers. They each share a favorite book from the five populated continents, excluding North America.
#DiverseKidLit is Hosted by: