As adoptive families we frequently experience the assault of being "othered." Some people view our families with suspicion and with a subtle judgment of inferiority. Frequently this prejudice reveals itself in off-hand comments such as: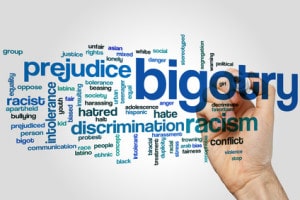 "What do you know about her "real" mother?
"Do you ever wish you had children of your "own"?
"How could she give him away?"
"How much did he cost?"
"He brings such chaos, why not just send him back?"
"You're amazing; I could never love a child who wasn't my own."
I believe most people don't intend to be hurtful or offensive but in their ignorance, they are. Their mistrust of anything perceived as "other" magnifies their fears. They demean what they do not know or understand. Their prejudice appears on levels both minor and major.
Bias is undeniably obvious in the temperature of current political discourse which grows increasingly less civil, less tolerant, and less respectful day by day. The easiest response is to tighten ranks around the status quo, esteeming that which is most similar to one's circumstances, thoughts and experiences. It takes work to understand and familiarize oneself with the unknown. But it is work that must be done. To thrive as a family, as a community and as a country, we must pull together with mutual respect. We must not tolerate hits on our children's culture, race, ethnicity, etc. We cannot afford to crush the dreams and talents of those who are different from the norm. We must not condone the "cloak of invisibiltiy" which traps children and people of color in pigeonholed boxes.
Rarely has the influential role of books loomed more pivotal. View this wonderful video by Grace Lin. She is the award-winning author of many books, among which is the classic, Dim Sum for Everyone. She focuses her Ted Talk on the needs of our children, however, her point is crucial for us all. Please watch her brief presentation and then review your family bookshelf. What changes would benefit your family?
Look for my future reviews of Grace's many books.