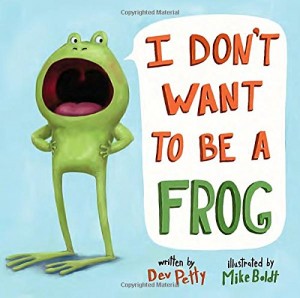 Children often complain that they don't want to be: skinny or fat; tall or short; blonde or brunette; curly-haired or straight-haired; etc. Their lists can be lengthy and changeable.  They want to be anything else except themselves. Dev Petty's picture book I Don't Want To Be A Frog hilariously captures these universal feelings of frustration which all of us have—children and adults. The comical illustrations by Mike Boldt are eye-popping and full of hidden jokes for the adult reader. (This is a definite plus because I predict, children will request this book over and over.)
Imagine being Froggy—wet, slimy, and stuck eating bugs—lots of them. I mean seriously, pretty yucky, right? He yearns to be cute, cuddly and warm like a cat or a bunny. He's even willing to settle for a pig or an owl. Mama frog patiently points out all the reasons why Froggy can't be other than himself. But the most convincing argument comes from a surprising source: a very hungry wolf. Wolf savors the taste of rabbit, owl, pig and cat but turns up his nose at the thought of eating a slimy, wet bug-eating frog. Froggy is relieved—and safe. He celebrates by dining on his favorite treat a succulent fly!
It's easy to appreciate the obvious message conveyed in I Don't Want To Be A Frog: being yourself is the best choice. For adopted children this is an especially pointed lesson.  It offers a great talking point regarding the talents, inclinations and abilities which they received through their birth parents. Families can highlight and celebrate these differences as things of value.
Often we concentrate on identifying ways that our adopted children are like us. Commonality equates to connection. It is equally important, however, to notice, validate and encourage the differences which our children bring to the family. These add value, texture and variety and are an important part of them. These differences enrich our families; they do not diminish us. A Five Star read.