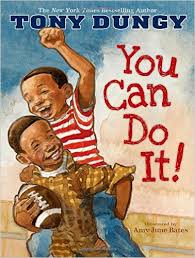 "You can do it!"  Those are words we all like and need to hear. The belief which others have in our ability fuels one's own courage, willingness to try and persist through to success. This is especially true for children. They need our focused attention and thrive under the positive expectations of parents and teachers. (Equally true, kids who constantly hear negative, discouraging or demeaning messages, absorb those as well. They soon learn to expect little of themselves.) The self-fulfilling power of expectations is well documented.
What a delight it was to discover You Can Do It which was written by #1 New York Times best-selling author and professional football player Tony Dungy and illustrated by Amy June Bates. In the story, Linden wrestles with feelings of doubt and shame. Teachers mistake his restlessness for mischief. Linden can't seem to figure out who he is and who he wants to be.
With the mentorship of a patient older brother, the encouragement of his parents, and the compass of the family's Christian faith, Linden learns to notice and value his unique talents. Now, the success of those around him inspire him instead of making him feel inferior.
You Can Do It is upbeat and not overly preachy.  The wonderful illustrations by Amy June Bates depict Linden and his family feature a middle-class African-American family living in a multicultural community. I like that You Can Do It  depicts African-Americans in successful, professional occupations, e.g., Linden's dad is a scientist and the family dentist is also black. This is an important for all readers, regardless of their own race.
AQ Lens: I believe this book transmits an important message for kids who were adopted. Because information is frequently missing, they may have to struggle harder to recognize and appreciate their talents. The message of You Can Do It  is that sometimes it takes time for one's gifts to manifest themselves and it doesn't lessen their importance. Parents must be alert for indicators of potential talents that their children may possess and will want to nurture them–especially those that diverge from the adoptive family's "typical" choices. Be intentional about encouraging children to be their best selves, so they develop all their abilities even those which "stand out" from the family's history. Both parents and children will be enriched by this diversity.
For families who have adopted transracially, it is a plus to see a family of color that is not the stereotypical struggling urban family. This is also an important example for families who are not racially mixed as it helps them step beyond the limited view of success as primarily limited to Caucasians. All families can benefit from the earnest values espoused: hard work, persistence, faith, community, studying etc.
A five star read.
Tony Dungy has written fifteen books. In addition to his children's books, he has written several for adults as well. He  supports many charitable causes. Visit his author page on Amazon for details.