The Magic Brush: A Story of Love, Family, and Chinese Characters has much to offer readers with an interest in diversity. (That includes all of us, right?) Written by Kat Yeh, (an Asian-American,) and illustrated by Huy Voun Lee (who was born in Cambodia) whose real-life experiences as Asian Americans infuses the story with authenticity.
The illustrations enrich the story effectively, e.g., when Grandfather stands in his doorway and wiggles his finger to invite Jasmine to enter. Along with her, the reader discovers a space infused with Asian elements: furniture, wall hanging, drawing table etc.
But the story  also captures a universal moment, of a grandparent passing on his wisdom, engaging his granddaughter in both the magical and factual elements of their culture. Huy Voun Lee skillfullly inserts Chinese characters so they both embellish the illustration and offer a chance to learn the characters. The book includes a pronunciation guide and a very brief  summary of Chinese art as well as explanations of the food treats described in the story.
Beyond the fascinating and valuable peek at Chinese culture, Kat Yeh relates a universal story of family connections.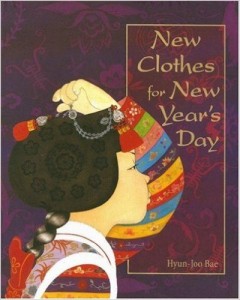 Our next title offers a peek into Korean culture. Written and illustrated by Hyun-joo Bao, New Clothes for New Year's Day  begins with a girl gazing from an open window. A breeze billows invitingly, beckoning the reader to step beyond it and explore the many ways the New Year is welcomed in Korea.
The story unfolds through the experiences of this small girl as she completes the complicated ritual of dressing for New Year's Day in traditional Korean garb. Bright illustrations radiate energy as the tiny child struggles to don each item of her outfit. As she works with great care, ensuring that she places each element correctly, the reader observes her respectfulness for the traditions as evidenced in her dedication to detail. "It's not easy…," she says.
As in The Magic Brush: the artwork overflows with detail. This time we enjoy the beauty of Korean furnishings, style, colors and patterns. End matter includes information about how the holiday is observed, background about the traditional costume and the meaning behind it. A feast for the eyes, and an enjoyable venture into another culture.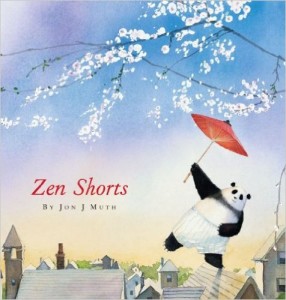 As a Caldecott Honor Book, Zen Shorts delivers breathtaking illustrations. This story too, begins with a child at a doorway. A boy tries desperately to capture his older brother's attention. He yells through the closed door, "There's a bear outside!" Brother remains skeptical and the door remains shut. Karl relates a play-by-play of the bear's antics. Finally, his brother Michael opens the door, the siblings' adventure begins.
They encounter Stillwater, a philosophizing panda bear who is armed with gentle Zen wisdom and an arsenal of anecdotes. A charming story that uses metaphors to make important points which are valuable for all –children as well as grown ups.
Zen Shorts is another double-barreled success both visually and textually satisfying that shows us "… how Addy, Michael,Karl–and Stillwater–became friends." This lesson in sibling harmony is a  welcome one.
Written by Carole P. Roman, a multi-award-winning author, If You Were Me and Lived in China is part of a series of non-fiction books which explore life in other countries through a child's eyes. The book visits some of the cultural landmarks, introduces some vocabulary and, describes cultural traditions–ancient and modern.
An excellent first introduction to China. Also includes a pronunciation guide. Illustrated by Kelsea Wierenga.
Check out some of her other titles in this series. They include lots of great information and help us prepare children for life as global citizens. #ReadYourWorld #DiverseKidLit #MCBD #WNDB
AQ Lens: Beyond the obvious benefits of putting children in touch with their cultural roots, by their very existence these books send a message that these traditions are worth noting, following and showcasing. It is an easy step to carrying the same sense of value to a child's roots. Coming from another culture makes one "different." But it isn't something to hide; it is something to share and honor. Readers will notice the effort and determination which the main characters demonstrate.  Skills and capabilities grow out of hard work. This is a great message for them to absorb!
These books also demonstrate the universality of common daily activities: dressing, enjoying time with grandparents, preparing meals, celebrating holidays. As the reader follows the main characters through the narrative, children can note the value of self reliance, connection to family and of being part of a history–personal, familial as well as cultural. Children will enjoy learning about other cultures, whether it is part of their history or not. By expanding our children's exposure to a variety of cultures and traditions, we better prepare them for life in this increasingly interconnected world. It is important for us to prepare them for this global citizenship.