Not Quite Narwhal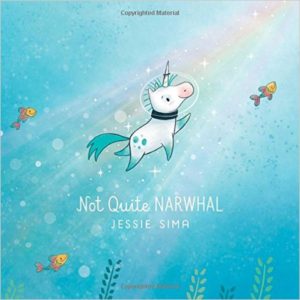 by Jessie Sima features Kelp, the eponymous narwhal who can clearly see that he is quite unlike the rest of his family and friends. His tiny horn, his fluffy tail, his atypical skills even his food preferences all differ dramatically from the rest of the narwhals. because they embrace his differences, Kelp feels welcome and "at home." As a consequence of feeling accepted, Kelp enjoys security and happiness.
Until…
Until one moonlit night, Kelp ventures close to the surface of the ocean. This single heart-pounding event transforms Kelp's life. All it took was a glance. Atop a distant peak, he spies a creature–not just any creature–one that looks just like him! Never before has he experienced the glorious affirmation of this commonality. Compelled to investigate, Kelp escapes the ocean and scrambles up the cliff. He comes nose to nose with an adult version of himself. In fact, he has discovered an entire community of lookalikes. They introduce him to the world of unicorns!
exhilaration! Delight! They like the things he likes; they look the way he looks. No longer the "square peg," Kelp finds where he belongs. Or, has he?
Kelp misses his family, his friends, the sea and the life he shared there. After wrestling with a difficult decision, Kelp decides to return home. Doubt besets him. He fears that once his family discovers he's a unicorn and not a narwhal, they might not be glad to have him back.
A rousing welcome greets Kelp. He's informed that they ALWAYS knew he was not a narwhal but loved him anyway. Kelp is thrilled. Yet…
Part of him longs for the sense of "fit" that he experienced among the unicorns. Eventually, he comes to realize that he does NOT need to choose between the two. To be complete, he needs both of his halves.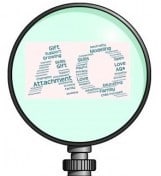 Adoption-attuned Lens:  It's an easy stretch to view Kelp's attachment to both his narwhal side and his unicorn side as a metaphor for adoptive and birth families. The simple, brief text captures much of the subtle and unconscious tug of war that adopted kids feel as they strive to integrate their birth and adoptive heritages. This book offers a gentle pathway to very important adoption-attuned conversations. Kids will appreciate the message that each of their two "halves" are valuable for a lifetime.
Everybody knows what it is like to be the odd duck who doesn't belong, who doesn't have "the look," "the clothes," etc… We know it feels demoralizing and defeating. Learning how to accept and love ourselves while also learning how to meld in with others requires practice. Lots and lots and lots of practice.
Chee-Kee takes a slightly different slant on being "other," fitting in, and adjusting to a new life. Written and illustrated by Su-Jean Rim, it tackles this issue straight from her own experience. Her family emigrated from Korea when she was a young girl. Her recollection of her experience, the teasing, the lack of acceptance and the yearning to be like everyone else—all these feelings informed the story line about a "Panda in Bearland."
The plot follows Chee-Kee as he travels to Bearland which is a place which welcomes everybody." The Bearlanders who greet the Kee family are enthusiastic. They also notice every bit of mismatch between themselves and the Kee Family. And little Chee-Kee feels each and every difference. Homesick for the familiar world of his native land, he yearns for the comforting feeling of belonging. Chee-Kee tries many methods to transform himself into a Bearland-type of person. Nothing seems to work.
Until…
Until a problem arises that only a panda can fix. Get the book to learn the what and the how of the problem! In the end, Bearlanders celebrate Panda the  for the part of him that was most different. What had formerly kept him on the fringe now became his gateway to acceptance by the Bearlanders and within himself.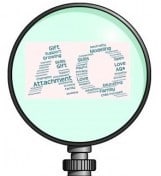 Adoption-attuned Lens: Adoptees often wrestle with feeling like they don't quite fit—in their adoptive families, extended families, and among their peers, etc. Thus Chee-Kee's struggles can serve as an apt metaphor for discussing this feeling of "otherness." The conversation can be direct—specifically adoption-focused—or indirect—focused on the bear's experience. Either pathway leads to some important conversation.
Another possible topic can address how Chee-Kee's talents and appearance and how they set him apart from others. This too offers an easy channel to discuss how an adoptee can look different from and possess valuable talents which differ from those common in his adoptive family. Discussion can focus on both reassuring the child as well as validating his struggles and affirming his contributions as a family asset. Again, this discussion can be overt or subtle: obviously about adoption or metaphorically.

Our theme for #DiverseKidLit in February is Love.
Please consider sharing diverse books and resources that support love and families. (As always, the theme is only a suggestion. Diverse posts on alternate topics are always welcome.)
What Is #DiverseKidLit?  Diverse Children's Books is a book-sharing meme designed to promote the reading and writing of children's books that feature diverse characters. This community embraces all kinds of diversity including (and certainly not limited to) diverse, inclusive, multicultural, and global books for children of all backgrounds.
We encourage everyone who shares to support this blogging community by visiting and leaving comments for at least three others. Please also consider following the hosts on at least one of their social media outlets. Spread the word using #diversekidlit and/or adding our button to your site and your diverse posts.
We hope this community will grow into a great resource for parents, teachers, librarians, publishers, and authors! Our next linkup will be Saturday, February 18th and on the first and third Saturdays of every month.
Upcoming Theme
Our theme for the current month is Love. Themes are a suggestion only; all diverse book posts are welcome. If you're interested, you can start planning now for our upcoming themes …
February 18th linkups: Love. Let's continue to spread our love of diverse books by sharing diverse books about love, families, and relationships.
March 4th and 18th: Changing Seasons. As we eagerly await the beginning of Spring in the Northern Hemisphere and Autumn in the Southern, let's share favorite books and resources on the seasons.
Most Clicked Post from Last Time
Our most-clicked post from last time was Marjorie's review of
IBBY Review: Roses Are Blue by Sally Murphy and Gabriel Evans
on Mirrors Windows Doors. This novel in verse shares the struggles of a young girl
trying to process her new life after her mother is severely injured in a car accident.
My DiverseKidLit Shout-Out
Now more than ever, we need to share and promote books
by and about Muslims, and a great place to start is Kitaab World's
new series on Countering Islamophobia through Stories.
The first entry is a book list featuring Muslim Kids as Heroes.
I am also delighted to welcome Gauri, CEO and co-founder of Kitaab World, as a co-host!
#DiverseKidLit is Hosted by: