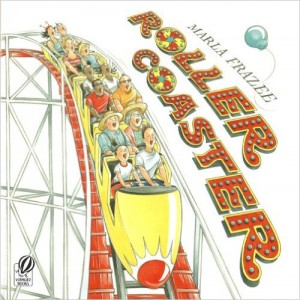 I really enjoyed reading Roller Coaster, a delightful book written and illustrated by Marla Frazee. What a treat! The story begins with the crowd waiting in line for their turn to ride the coaster. Young and old they stand, radiating enthusiasm, reluctance and many moods in between as they face the prospect of their impending roller coaster ride.
Fear pulses through the crowd; some shiver with anticipation. While others quake as they wait. "At least one of them has never ridden on a roller coaster before,…ever." As a person terrified by roller coasters, I could easily identify with the few reluctant riders depicted among the large group of enthusiastic passengers.
Readers–child and parent both–will delight in scrutinizing the detailed illustrations for hints about how the characters are feeling about their roller coaster journey. I particularly enjoyed the two burly men who struggled to restrain their fear and stay in line. Once the ride starts, they strain to hold onto the contents of their tummies! The characters include a diverse range of ages and races.
Young readers will readily identify with the story line because all kids regularly must confront their fears. (Sometimes the object of their fears my seem small and innocuous to adults, but to the children, they are vivid, frightening and powerful.) Kids must muster courage to overcome these fears. Each time they do so, they increase their confidence and sense of competence. The book concludes with a comment: "Most of these people are dizzy. Some of them have wobbly knees. But at least one of them is planning to ride the roller coaster again … right now!" You will have to read it to find out who it is.
IQ lens: Parents often wonder how to help teach their children emotional literacy –an important life skill. Roller Coaster offers many excellent opportunities to discuss feelings, especially fear. Since many adopted children wrestle with fear of rejection and of not being good enough as well as a reluctance to risk failure, this book offers a fun opportunity to talk about feeling scared, of confronting anxiety. It may even open a conversation about some of the things they worry about or fear in regards to their adoption.
Roller Coaster also points out that some prospective riders change their mind and decide not to ride. "Sometimes even those who are tall enough [to ride it] decide they don't want to." This too is a good example of how one must listen to one's "gut". Perhaps it will require several attempts to overcome a specific fear. There's no shame in that.
Simply stepping into the line and staying there for a while is a productive step. In fact it takes the same kind of courage to leave the queue as it does to stand up to peer pressure. This  is another discussion thread that could logically evolve from reading this book. 
Roller Coaster also brings a vigorous dose of fun to the shared reading experience. High AQ* parents know that this is a valuable and indispensable ingredient in attachment building. I highly recommend and rate it five stars.
AQ*: Adoption-attunement