Children will be delighted as they search to find themselves reflected in Who's in My Family? by Robbie H. Harris and illustrated by Nadine Bernard Westcott. The spirited illustrations include families of every stripe, color and arrangement. Even the locales, cuisine and activities are diverse, accepting and positive.  The simple story line follows a brother and sister through a day at the zoo. While there, they observe a variety of families—human and animal.
The tone of the story is upbeat and accepting and emphasizes that, regardless of the specific people who make up a family, it is created through caring and love. Readers will enjoy spending  time studying the illustrations and hunting for details–both those that reflect themselves as well as those that highlight differences. This exploration lends itself to conversations about what makes a family and how differences enhance our lives.
AQ Lens: The most obvious benefit that Who's in My Family? offers is the normalizing of differences. Each grouping is accepted and respected. Love is accepted as the definitive requirement to be a family. Young adoptees will be reassured to see that adoption is not the only way that families can be different.

 Heather Has Two Mommies  by Lesléa Newman is a twenty-fifth anniversary reissue and re-visioning of the groundbreaking story of a family with two moms. Both the text and the illustrations have been updated to reflect current understanding of adoption.  The subtle watercolor illustrations by Laura Cornell set a warm mood for the upbeat text. While Heather's family–and her two moms is a central part of the story, the nucleus of the story is about the wide range of families that are reflected among Heather's classmates. By establishing this tone, the uniqueness of Heather's family does not seem startling. Instead it exists as one of many family constellations. Heather's classmates also include many ethnicities so it is another nod to inclusion.
AQ Lens: This  book offers a chance to discuss the idea of how families can look  very different but still be a family. By having books like this on a child's shelf, they can freely select it whenever they feel the need to explore this theme; thus the child doesn't have to wait for adults to raise the topic first. The mere inclusion of such a book sends a clear message that it is a permissible topic. This is important for all adoptive families, even those who are more normative because all adoptive families are "different" by virtue of the fact that they grew through adoption. We have a fundamental vested interest in tolerance and acceptance.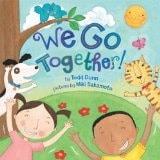 We Go Together  by Todd Dunn and illustrated by Miki Sakamoto provides a delightful collection of "pairs" in a child's life. Think: "socks and shoes, "ice cream and cone," and "dog and bone." Some obvious pairs are absent, like peanut butter and jelly,  so readers will have fun brainstorming their own pairs. I included this charming book based upon it's final lines: "We go together because you love me and I love you." Love, after all, is what links a family together.
AQ Lens: Take the opportunity to discover links of commonality beyond the obvious one of appearances. Just as adoptive family members don't necessarily look similar, other commonalities do exist. We just have to deepen our noticing skills to help us identify them. Equally important, we must convey to our children that the way we are different is also validated and appreciated.