The holiday season reminds us to have peace in our hearts, to think of others, affirm our relationships and share gifts that express our love. At the heart of the Christmas narrative is Mary and Joseph's unsuccessful search for a place to shelter. May we all prepare our hearts and homes to offer peace and goodwill and to be open and welcoming to those in need. These books detail historic examples of civil rights violations. They bear an unsettling parallel to contemporary situations.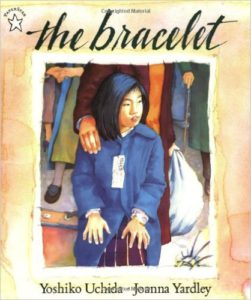 Originally published in 1976, The Bracelet by Yoshiko Ushida and illustrated by Joann Yardley revisits the mass internment of Japanese-American citizens during World War II. Guilty only of sharing the nationality of our enemy,  and in utter disregard of their civil rights, the U.S. government required them to sell all their property, homes and, businesses.
They had committed no crimes but rampant fear and mistrust shaped the decision to round these families up like convicted criminals. America no longer welcomed, trusted or, wanted them. Taking only what items they could carry in two suitcases, they were then imprisoned in  stables formerly occupied by race horses. They lived under armed guard and experienced great privation. This book presents the story through the eyes Emi of a young girl. The story opens moments before she and her family are forced from their home, now empty of all contents. Only memories inhabit the rooms. In a bittersweet gesture of friendship, Emi receives a bracelet from her (caucasian) friend.
This story focuses on how Emi learns to cope and on realizing that while material things can be lost, memories cannot be confiscated. The Bracelet does not dwell on the suffering and humiliation of internment and is an excellent introduction to learning the important lessons of this historic policy. In 1988 the US officially apologized and offered symbolic restitution.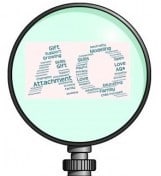 Adoption-attuned Lens: This book can open important conversations for adoptees–especially those adopted trans-racially or trans-culturally. Adoptees often talk about feeling isolated from their birth culture/race and struggle to learn how to absorb and integrate this part of their identity. Because of the current political climate relative to the status of immigrants and those of other races, many kids worry what this cultural attitude means for them individually as well as for their family and friends. The Bracelet can help start the conversation that will enable parents to reassure their children.
So Far from the Sea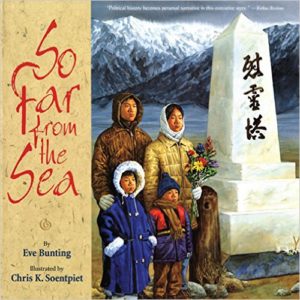 by Eve Bunting and illustrated by Chris Soentpiet also presents the story of the internment of Japanese-Americans. However, this story unfolds decades later. Koharu, a former child internee, now a man with his own young children, returns to the camp to visit his father's grave.
Flash backs rendered in black and white illustrations create a dramatic look into the bleak and intimidating living conditions. Readers will clearly see that Manzanar was no summer camp; it was a prison where entire families were held captive. Stripped of their livelihoods, their goods, their status, and their culture, the camps imposed social upheaval
Laura, Koharu's daughter narrates the story. She has listened attentively to her father's stories of his time at the camp. One particular memory touched her: As they prepared to be relocated, Koharu's father told him to don his cub scout uniform so that when the soldiers came for the then-eight-year-old boy they might recognize that he was "a true American and they will not take" him.
The unfairness of her family's internment shocks Laura. She cannot believe that it happened here in America. "You were Americans," she says, "Like me. Like Thomas." Her father concludes, "..it happened long ago … and cannot be changed."
The gift of this poignant story is the chance to learn about this major misstep in American history so that we can understand the cost in human terms and not repeat such a policy.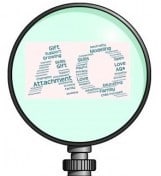 Adoption-attuned Lens: Every adoptee faces a unique task of merging together elements of their biological and adoptive family identities. This book can start conversations about how important it is to respect both and not to treat one as "second class." There is room for both at the table.