It feels appropriate to conclude the month of February with a final nod to affairs of the heart. Beyond romance, each of us yearns to love and be loved. We wish to be seen and accepted as our authentic selves. We need to be appreciated for our differences as much as for what we have in common with family and friends. It is our differences that make us unique. This acceptance is difficult to achieve.
Ironically, it is often our own selves who are the most challenging to convince. That's why a book like Happy by Pharrell Williams is an excellent choice to read as a family. The lyrics of Pharrell William's song form the text of the book. Before reading this book, play the song. Can you feel your body itching to jump up and move? Go for it! Encourage your child to do the same.
The photo illustrations are wonderfully diverse and capture the energy of the song well. The notes included as back matter are n added bonus. Pharrell invites readers to become a Happy Helper, sprinkling seeds of happiness and contributing to the creation of a better world. This book is a delightful five star read!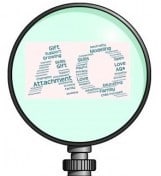 AQ Lens: It is easy to get lost in the habit of waiting to be happy. We clutch the negative aspects to our hearts and minds to focus on what is missing; on some event/result that awaits us in the future; on the the conclusion of some restriction; on the accomplishment of some goal, etc..
We must teach our children to take the time to enjoy the blessings of what and who are in their lives in the present moment. This is not to invalidate their losses, yearnings and unfulfilled needs. Rather it is to teach them to hold a both/and mentality. (Although in adoption circles we usually think  about this concept in relation to valuing and respecting both birth family and adoptive family, this mindset is beneficial for all aspects of their lives.)
We truly bless our children when we succeed in teaching them how to hold and enjoy their life in spite of their trials, disappointments and losses–those rooted in adoption as well as those losses and frustrations originating elsewhere. To some extent, happiness is a practice we must learn to cultivate. It is an important skill we can teach our kids. Along the way we can carve out time to connect through having fun together which is a proven way to strengthen the ties that bind families together across time and distance.
Remember to look for reasons to be joyful; our personal example is our most effective teaching tool.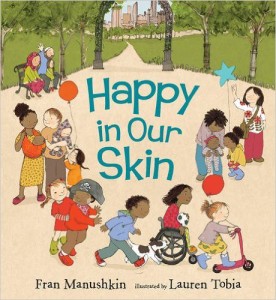 The title Happy in Our Skin by Fran Manushkin, illustrated by Lauren Tobia pretty much captures the message of this book. Richly diverse illustrations capture children and their families in various activities. Readers will notice that regardless of ethnicity, culture or physical ability, families interact and love the same. Children will also learn that skin has important function: "It keep the outsides out and the insides in." All people have this in common. Skin presents obvious differences as well: color, texture, freckles, dimples, even goose pimples.
Happy in Our Skin can create an easy opportunity to have some important conversations about race. This can help parents lay the groundwork for tolerance, acceptance and for the end of racism.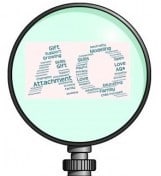 AQ Lens:Race matters. "Color blindness" is a misguided strategy for nurturing racial harmony and racial identity. It is essential for transracial adoptive families to have consistent conversation on the topic. Parents must ensure that they are encouraging a reality-based discourse not one that is sanitized because it is easier to pretend race is less of an issue than it is.
Adult adoptees who were adopted into transracial and/or trans-cultural families have raised their voices to proclaim the absolute necessity to tackle issues of race with courage and openness. Happy in Our Skin offers an easy conversation starter. Like many difficult adoption-connected conversations, it is best to begin discussions at a young age.
This accomplishes two things. First, it affirms that parents want to talk about it and are capable of hearing the real story. The good. The bad. And the ugly. This allows parents to provide loving support for children facing tough experiences themselves. It also educates children who are not transracial adoptees to have empathy, understanding and a willingness to be part of the solution instead of part of the problem.
Second, it prepares children with information, strategies and validates their true experiences.