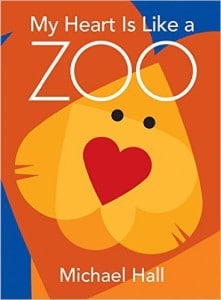 How would you reply if you asked yourself, "What is your heart like?" What would you predict your child might reply? My Heart Is Like A Zoo written and illustrated by Michael Hall offers a delightful variety of answers to this question. In an additional and entertaining surprise, the illustrations are made of different configurations of hearts– large and small, complete and incomplete. What a wonderful demonstration of creativity!
Kids will giggle and smile their way through this sweet, silly book. Ear-catching rhyme and unexpected descriptions add dimensions of fun. For example, "Silly as a seal/ rugged as a moose/ happy as a herd of hippos drinking apple juice." Who knew hippos love apple juice? Or how quiet a caterpillar can be when "wearing knitted socks"?  Casey read this book with her second grade class; they enjoyed it tremendously, then created their own zoo-heart animals as metaphors for their own emotions. Five Stars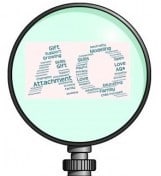 AQ Lens:  A fun book like this one makes it easy to talk about upbeat feelings and lays important groundwork for more difficult conversations. Because of the complexities of adoption, adopted children benefit from having a broad vocabulary for describing and identifying their feelings. This helps them discuss their emotions as well as to understand these emotions.  The uniqueness of the illustrations also encourage creativity and showcases the benefit of not thinking/being exactly like everyone else.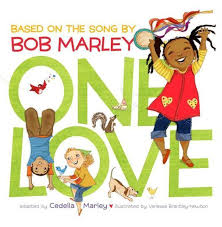 Valentine's day brings thoughts of love. Add a sprinkle of multiculturalism to your celebrations with the charming One Love by Cedella Marley, daughter of the Reggae artist, Bob Marley. Illustrations by Vanessa Brantley-Newton enliven the text, based on his song, "One Love." Beautiful multi-media pictures will brighten the reader's day.  The mood of the story is upbeat and positive and reinforces the idea that we are all part of the community of earth, that we all can choose to work, laugh and love together. Five stars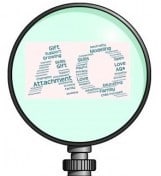 AQ Lens: This is not an "issues" book, rather it shows people engaging in ordinary tasks, living their normal daily activities. This sweet book easily introduces the idea that we need not look the same in order to be friends, neighbors or family. It depicts people of different races happily playing and working together. People of many shades of color appear throughout the story. Several images of Bob Marley are tucked into the illustrations. Hunting for them  would be fun. Plus, it would be an easy segue to a conversation about birth parents–how they are "present" in a child in ways both subtle and obvious.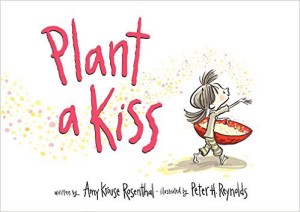 Valentine's Day brings kisses to mind.  A wonderful book that looks at kisses in a unique way is Amy Krouse  Rosenthal's gem, Plant A Kiss.  Illustrated brilliantly by Peter H. Reynolds, the very spare text literally sparkles and matches the mood of the story perfectly. Have you ever wondered what might happen if you planted a kiss? No? Well, you are in for a delight when you share this book with your special child. Before you begin, ask your little one to predict what might happen if he or she planted a kiss. The question is sure to fire up their imaginations. It will also open a window into the way they think and feel which helps parents know and understand their children better.  Five stars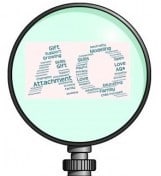 AQ Lens: This story line can serve as a wonderful conversation starter. Ask kids what else they might "plant." Then, have them predict what might happen. Compare the "harvest" of each emotion. Conversations like these can be a wonderful gateway to important conversations about deeply held adoption-related thoughts and feelings. You might be surprised by what your child reveals. This creates a great chance to validate their feelings, clarify confusion and address their worries and concerns.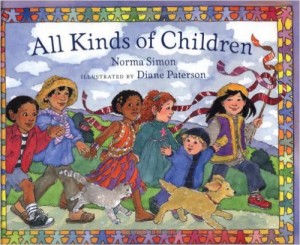 A title like All Kinds of Children sets our expectations of inclusivity and multicultural characters and  content. This book delivers on all accounts as it explores "fascinating differences" as well as "all they have in common with other boys and girls." Written by Norma Simon and deftly illustrated by Diane Paterson, the duo presents similarities and differences in foods, housing, families, playtime activities and work. Many ethnicities and races are depicted although no interracial families are shown which is unfortunate. Still this book deserves a spot on the family library shelf. Five stars.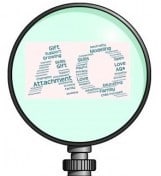 AQ Lens: The biggest plus of this book is the way that it depicts the myriad ways in which everyone is both alike and dissimilar. Since many adoptees have a wrestle with the process of blending their identities from a mixture of both nature and nurture, this book opens an easy entry into talking about the many ways in which they are similar to each family as well as the multiple ways in which they differ. A book like All Kinds of Children accomplishes this task without judgment and thus normalizes the conversation.
What Is #DiverseKidLit?
is a book-sharing meme designed to promote the reading and writing of children's books that feature diverse characters. This community embraces all kinds of diversity including (and certainly not limited to) diverse, inclusive, multicultural, and global books for children of all backgrounds.
We encourage everyone who shares to support this blogging community by visiting and leaving comments for at least three others. Please also consider following the hosts on at least one of their social media outlets. Spread the word using #diversekidlit and/or adding our button to your site and your diverse posts.
We hope this community will grow into a great resource for parents, teachers, librarians, publishers, and authors! Our next linkup will be Saturday, February 18th and on the first and third Saturdays of every month.
Upcoming Theme
Our theme for the current month is Love. Themes are a suggestion only; all diverse book posts are welcome. If you're interested, you can start planning now for our upcoming themes …
February 18th linkups: Love. Let's continue to spread our love of diverse books by sharing diverse books about love, families, and relationships.
March 4th and 18th: Changing Seasons. As we eagerly await the beginning of Spring in the Northern Hemisphere and Autumn in the Southern, let's share favorite books and resources on the seasons.
Most Clicked Post from Last Time
Our most-clicked post from last time was Marjorie's review of IBBY Review: Roses Are Blue by Sally Murphy and Gabriel Evans on Mirrors Windows Doors. This novel in verse shares the struggles of a young girl trying to process her new life after her mother is severely injured in a car accident.
My DiverseKidLit Shout-Out
Now more than ever, we need to share and promote books by and about Muslims, and a great place to start is Kitaab World's new series on Countering Islamophobia through Stories. The first entry is a book list featuring Muslim Kids as Heroes. I am also delighted to welcome Gauri, CEO and co-founder of Kitaab World, as a co-host!
#DiverseKidLit is Hosted by: