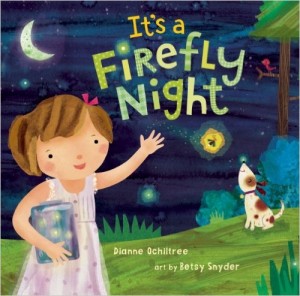 My memories of childhood summers conjure thoughts of unscheduled days at the beach, of playing with friends, all  balanced with lots of time to daydream, read and spend time with family. (We had no TV, if you can even imagine that!) Now summer looks and feels quite different. Day care, summer camps, programmed activities and TV dominate many kids' summer days. Parents struggle to engage their childrens' attention, to divert them from the various tech and media available to them.
Still, summer offers a wonderful opportunity to build positive memories of time having fun together. Fun is FUN-damental to building strong family ties. From my own childhood, I recall scampering across the grass collecting fireflies. Their glow seemed magical and filled us with wonder. Because It's a Firefly Night by Diane Ochiltree captures this delightful moment, I truly enjoyed reading it. The little girl's excitement is palpable when her Daddy tell her, "It's a firefly night." The reader senses that this is a special ritual that the child shares with her daddy and something she will treasure down the years of her life. Betsy Snyder's luminous art brings the rhyming/counting text to life. Children can make a game of searching for and tracking the number of bugs, flowers, etc. And have fun in the process!
For another variation on the firefly theme, also consider Goodnight, Firefly by Gabriel Aborozo. Vivid inky black illustrations splashed with small strokes of glowing yellow and apple red set the perfect backdrop for the text. "Nina was scared of the dark…" Children will identify with Nina's fear, "scary shadows … whispering of monsters…" and her great relief when she spies the welcome light of fireflies "dancing."
In both books, the girl treasures her captive firefly and yet … she comes to understand that she must release it so that the firefly can live. This is a great concept for children—and parents–to understand. We seek to raise children who grow to be strong and independent, to provide them with sturdy "roots and wings." Unless we allow freedom, relationships are built on captivity, not trust and respect. Like the firefly, we must release our children and free them to follow their paths. In Albert Schweitzer's words: "If you love something so much, let it go. If it comes back, it was meant to be; if it doesn't, it never was."
Wondering about the science behind a firefly's luminous glow? Check out this link from National Geographic.
AQ*Lens: We parents must balance our roles as leaders, teachers and the family "authority," with time enjoying one another. For children who struggle to maintain self-regulation, this is especially necessary.  (The challenge is to have fun without devolving into chaos.) Strong relationships weave families together.
If we hope to grow children who absorb and embrace our family values and beliefs, we must build relationships of respect and cooperation then cement them with a hefty dose of fun. In the absence of fun, kids will view parents primarily as the enforcers not the compass, the leaders, and heart of their world. Parents who balance "enforcement" mode with plenty of family fun keep kids engaged and interested in spending time as a family. Spending time "in joy" together is a key component of attachment, a high priority in adoptive families.
How will you create magic family moments? Hunting fireflies? Counting Stars? Watching the sunset? What ideas can you share with us?