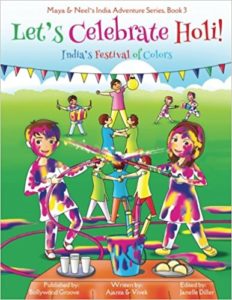 Children love festivals and celebrations–don't we all!
What better way to expand cultural literacy than through learning about unique holidays marked by other cultures. Let's Celebrate Holi, India's Festival of Colors by Ajanta [Chakraborty] and Vivek [Kumar] brings to live a delightful holiday celebrated throughout India. The traditional observances vary throughout the country but all include bonfires and drenching one another in vividly colored water. Let the Party—and the Learning Begin! Celebrate Holi. This charming book will teach you how.
Kids will delight in discovering a holiday that provides the perfect excuse for drenching themselves and others in brilliant color, hurling buckets of water, exuberant dancing and, watching bonfires. While these elements will certainly grab their attention, children will simultaneously absorb information about the story behind the festivities. This knowledge will help build a foundation of awareness of and respect for, the traditions and beliefs from other cultures. This is a delightful and engaging book which help awaken interest in other cultures and will broaden their cultural awareness.
In this book (the third in the series) Maya and her brother Neel visit relatives in India. Their arrival coincides with the festival of Holi which provides the perfect opportunity for the cousins to explain the holiday. As Maya and Neel learn about their heritage and the various ways the people celebrate throughout the many regions of India, readers will also. They will discover that India is an immense country with many states, each of which observes the holiday in unique ways. The book also includes a pronunciation guide which demonstrates the proper ways to speak the Indian words.
The authors of the series also maintain a website which features additional resources, Bollygroove dance classes, etc. Check it out.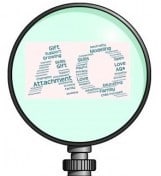 AQ Lens: An appreciation for one's cultural heritage is probably the most obvious Adoption-attuned opportunity which Let's Celebrate Holi, India's Festival of Colors provides. Because of the inherent elements of fun, color, dancing and water play most kids will find the story appealing. It may even make it easier for adoptees to share their culture with others–and feel safe about that sharing.
Be sure to read the other books in the series: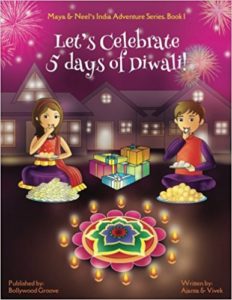 Let's Celebrate Five Days of Diwali 
and