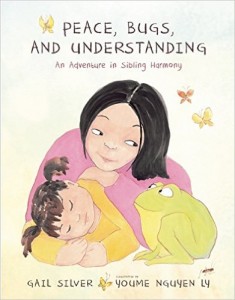 Helping our children navigate the changing seas of sibling relationships is one of many important tasks faced by parents. Sometimes we intervene while other times we allow our children to work it out themselves. Learning to compromise, to speak up for oneself and to disagree respectfully is an essential life skill. Sibling relationships provide an opportunity to learn these basics. Peace, Bugs and Understanding: An Adventure in Sibling Harmony by Gail Silver and illustrated by Youme Nguyen Ly explores this subject. Lily is tired of her little sister spoiling things and she envies the attention that little Ruby garners from her parents.
When the toddler "ruins" her family's picnic, anger churns inside Lily and leaves her gruff and frustrated. Luckily, her dad has come prepared. He shares a special book with Lily–her grandfather's boyhood journal from 1923. The journal describes his experience with a talking frog, an annoying sibling and the overwhelming weight of anger. Exhausted by the burden of his angry feelings, he turns to deep breathing and a series of prayerful meditations:
Breathing in, breathing out…

May I be happy'

May I be safe,

May I be strong,

May I live with peace….

May we all be happy,

May we all be safe.

May we all live with peace."
Lily, immersed in the book, loses track of her little sister. When she looks for Ruby, for a brief moment, Lily cannot find her. In that space, Lily realizes how much she loves her sister.
AQ Lens: All children experience feelings of inadequacy, rivalry and anger. For adoptees, this emotion is poignant and frightening. The flip side of "not good enough" is an intense need for attention. Readers will identify with Lily's frustration. They can benefit from the strategies modeled in the book. The lush, pastel watercolor illustrations evoke a soft contemplative mood. The presence of Asian characters adds a welcome note of diversity.
I rate  Peace, Bugs and Understanding: An Adventure in Sibling Harmony