The social climate today is increasingly nativistic so this is an important time to expose children to literature that affirms diverse cultures and expands limited horizons. This group of books includes newer titles as well as some classics and reflects both Chinese and Japanese culture.

 
Red Is A Dragon: A Book of Colors by Roseann Thong will delight readers of any culture. Grace Lin's illustrations rendered in brilliant colors and bold illustrations will captivate readers . One need not be Asian to appreciate the artistry and enjoy the simple rhyming text. Red Is A Dragon: A Book of Colors is a delightful way to learn how to recognize colors while being exposed to a hint of Asian culture: dragon kites, fire crackers, jade bracelets, incense sticks and Chinese opera. At the same time, many illustration reflect universal elements like going to the beach, flying kites, etc. This book does an excellent job serving as both mirror and window and is a visual delight that teaches more than colors. Includes a glossary that to further explain the cultural elements. Five Stars!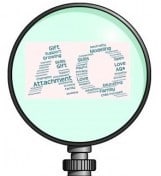 AQ* Lens This concept book uses elements of Chinese culture to deftly show how one can simultaneously celebrate one's heritage and be "American." This is a subtle but important message for adoptees who spend a lifetime braiding the diverse threads of their life into a healthy tapestry, of which they can be justifiably proud. Every "thread" has value and contributes to who they are.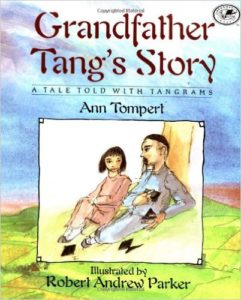 Grandfather Tang's Story: A Tale Told in Tangrams  by Ann Tompert and illustrated by Robert Andrew Parker is a unique book which uses tangrams–the traditional Chinese art form– to expand the lovely pastel illustrations. The plot line features a sweet moment between granddaughter and her grandfather. The little girl requests her grandfather to tell a story so that they can both bring it to life with their tangrams.
Readers can easily duplicate the tangram shapes and then mimic each illustration themselves which offers a unique interactive element to the story. Or, they can simply enjoy the illustrations without taking on the challenge–and fun–of manipulating the tangram pieces.
Grandfather Tang's Story: A Tale Told in Tangrams offers a good example of families connecting across generations, creating fun from their imaginations — without depending on elaborate tech. It highlights a subtle message of loyalty, friendship and learning from mistakes.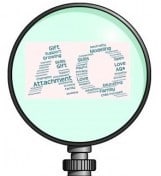 AQ* Lens This tale can easily digress into a conversation about the many ways we try to change ourselves, something many adoptees struggle with as they try to figure out how to fit in. Readers can discuss how each transformation brought risks and rewards; most importantly the foxes recognize they must be true to themselves. This is such an important lesson for all of us but especially for many adoptees who are tempted to reshape themselves to fit their idea of what they believe their parents "wish" them to be.
The story also shows how the little girl "read" the cues her grandfather gave so she recognized when he needed to end their game and rest.  This plot points can leading to talking about reading social cues which is an important skill that all kids need.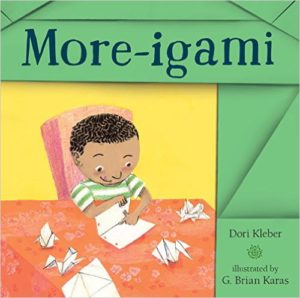 More-igami by Dori Kleber and illustrated by G. Brian Karas celebrates origami–the art of traditional Japanese folding. In a fresh spin on the topic, the main character, Joey, is African-American. After a classmates mother, Mrs. Takimoto visits his class to demonstrate how to fold paper cranes, he becomes obsessed with origami. Joey embraces her instruction :"If you want to become an origami master, you'll need practice and patience."
He practices folding shapes from his homework, the newspaper, gift wrap, recipes cards… until his exasperated mother insists that Joey stop. Eventually Joey solves his problem by folding napkins into origami shapes for the local Mexican restaurant.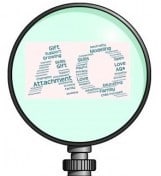 AQ* Lens In this simple, charming story, readers find several cultures interacting respectfully and finding delight in the richness of diversity.  More-igami is not an issues book, nonetheless is does an excellent job of depicting  people of many races and ethnicities working together and enjoying snippets of each other's cultures. This story models cultural harmony and also shows individuals valuing their heritages proudly. Like Red Is A Dragon: A Book of Colors this book quietly lobbies for diversity. It's not a placard-carrying stand, not an "issue" book and not an primer on any culture. It is a story well told with an important message brilliantly integral to the story without being the story.
And now on to the classic books…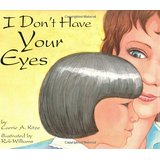 I Don't Have Your Eyes by Carrie A. Kitzie presents a variety of parent/child racial and ethnic pairings that reflects great diversity. Its simple, spare text details the ways  individual children differ a parent and then follows with another way in which they are same. Kitzie's message: each of us is unique and have traits that are valued by families. Our differences enrich the family while our commonalities knit us together. This book appears on many lists as a favorite among adoptive families. It has broad appeal for many diverse families, not just a single ethnicity. It is relevant even to families who share ethnicity, race and culture because each of us are unique and in some ways each of us differs from our other family members.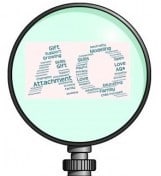 AQ* Lens
The key message here is that differences do not need to divide families nor do they need to be minimized or dismissed; differences can be noticed, appreciated and valued. An adopted child most know, feel & believe they are accepted for whom they authentically are. Because Rob Williams' illustrations display such a broad spectrum of "looks" , children from many ethnicities and diverse backgrounds can enjoy this book.
Shining Star: The Anna May Wong Story by Paula Yoo and illustrated by Lin Wang is particularly apt in today's social political climate as it follows the career of performer Anna May Wong. It chronicles her career as an actress in Hollywood. For many years she struggled with a dilemma: the only roles offered to her as a Chinese-American were demeaning stereotypes. In order to fulfill her dreams and to help support her impoverished family she accepted the caricature roles. But, she worked consistently to demand better portrayals of Chinese characters in film.
The book effectively captures Anna May's passionate dreams, her humiliations, her compromises and her ultimate success as well as the sacrifices her parents made when they immigrated to the United States. This riff on the immigration theme is a pertinent read for current times.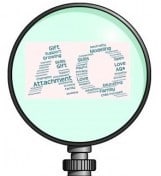 AQ* Lens: Shining Star: The Anna May Wong Story depicts a character immensely proud of her heritage. The daughter of Chinese immigrants, Anna May faced racial discrimination, gender limitations, knew poverty and hard labor. She spent a lifetime carving out a place for Chinese American performers. Through her efforts in the cinema, she helped to spread acceptance and understanding of her culture. This pride and willingness to stand up for one's roots is a key message for adoptees.
The Paper Crane retells an ancient Japanese fairy tale. Written and illustrated by Molly Bang it is a delightful read that reveals the importance of both hard work and kindness. It pairs well with More-igami because it hints at some of the cultural backstory that the reader of that story might otherwise not know. This book was a Reading Rainbow selection.