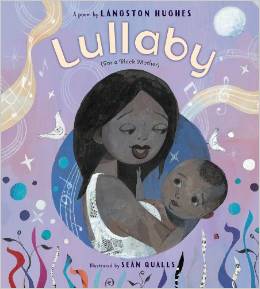 This week we celebrate Valentine's Day and the gift that is love. What greater blessing than that of a mother's love? It is exquisitely depicted in the book, Lullaby (for a Black Mother.) Based on the Langston Hughes poem, it is illustrated by Sean Qualls in acrylic, pencil and collage.
This lovely book beautifully captures the intimacy of a bedtime ritual. The text is melodious, soothing and accompanied by pictures in the perfect palette of soft hues of blues, purples and aqua.
When I view the book's universal theme of mother/child connection through the lens of adoption-attunement, what do I notice?
First, in contrast to the "color blind" approach often advocated, the poem highlights the baby's race: "My little black baby/My dark body's baby." Color is a point of connection, of joy, of beauty. Race is not erased, over-looked or ignored; it is celebrated.
Second, for trans-racially adopted children, this book might open a conversation about how his birth mother might have held him and sung similar feelings. This would be a lovely idea to plant in a child's heart and provides a concrete way of living an attitude of respect for a child's birth family.
Regardless of race, this is a visual delight, an evocative and calming bedtime read.