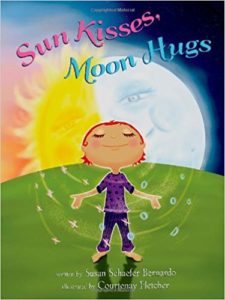 The transition of summer into autumn marks a twist of time that is familiar to all of us, young and old, student and graduate, parent and child. School bells ring across the country, marking the end of summer. Once again, children will leave their homes for the hubbub of school.
This separation excites some children. They race to rejoin friends whom they haven't seen all summer. Other children, especially in the younger grades, feel angst, loneliness and, fear.
Change by its very nature, upends the status quo. It demands that we throw off the comfort of the familiar and, step through the open door into the possibility of "next." Both scary and exciting, change is the gateway.
Emotions run high and we yearn to have witnesses to the events—whether it is to celebrate, encourage or, comfort. Joy shared is joy multiplied. Fear shared is fear halved. Sun Kisses, Moon Hugs offers an engaging metaphor that can reassure little ones that the connections that tie us to the people we love endures across distances of time and space. That they can be invisible witnesses to their lives. Whether their separation concerns focus on parents who are at the office, on the road, across the world—whatever the reason—their presence is constant. Sun Kisses, Moon Hugs shows how that affection can be seen and felt in myriad ways, rain or shine, night or day.
Reassure children that connections to people they love endures across distances of time & space.
Click To Tweet
Author Susan Schaefer Bernardo and Illustrator Courtenay Fletcher have created a charming book that will uplift and reassure children. Adults who read the book will find a lovely way of describing the powerful emotions that connect them to the people in their lives. (It's not just kids who experience the pangs of separation, adults do also.)

Adoption-attuned Lens:  This story might easily trigger a conversation about the connection, longing and questions about birth parents that adoptees have. They may find reassurance in imagining these important people being present in the constants of sun- and moon-shine, raindrops and snowflakes, butterflies and rainbows, storms or changing seasons.
https://www.amazon.com/Kisses-Moon-Susan-Schaefer-Bernardo/dp/0971122814/ref=sr_1_1?s=books&ie=UTF8&qid=1503846427&sr=1-1&keywords=Sun+Kisses%2C+Moon+hugs