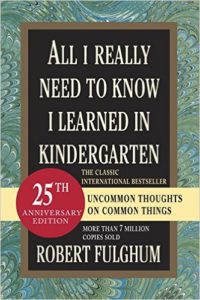 Some essential life lessons we must teach kids:
Treat others with respect, compassion,  empathy.
Disagree without hate
Advocate without demonizing other points of view.
As adults, we must work to ensure our country lives up to its promise to provide "liberty and justice for all." We must ensure our kids understand they are part of the solution and then we show them how to stand up for themselves without stepping on others. We must encourage them to be a force for good and to speak up for others instead of sitting in silence,or even worse–bullying or intimidating others.
Over twenty-five years ago, Robert Fulghum wrote All I Really Need to Know I Learned in Kindergarten. It was a best seller that sold millions of copies world-wide. Today's social climate demonstrates that we need to relearn these basic lessons of fair play and responsibility. Here are two books that will help us to teach them to our children and will serve as a worthwhile reminder to ourselves.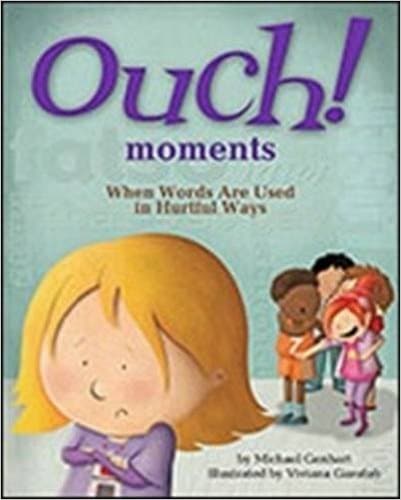 Ouch Moments: When Words Are Used in Hurtful Ways by Michael Genhart, illustrated by Viviana Garofoli tackles the topic of meanness in thought, word, action and inaction. Through very simple text, the author shows readers how to identify ouch  moments and how to respond whether one is the target or a bystander. Key points include:
Silence equals approval of the meanness
Responding in anger makes things worse
Seek out helping adults
Avoid replaying mean self-talk in your mind
Work together to be kind and resist ouch moments
Justifying meanness as funny does NOT erase the hurt
Ouch Moments is published by Magination Press, an arm of the American Psychological Association. Their books stand on firm ground. The multicultural illustrations are engaging and feature diverse circumstances. This would be an excellent read for the entire family; sometimes even adults need to be reminded of the important lessons Ouch Moments  strives to teach. This book includes an informative and practical Note to Parents and Caregivers.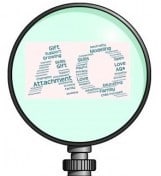 AQ Lens: This book offers a fun way to talk about a very serious and painful issue. For adoptees, Ouch Moments can very easily lead to conversations about the adoption-related ouch moments a child has faced. Many children find it difficult to introduce this topic because they want to protect their adoptive parents from this ugliness and hurt. Other kids stuff these experiences but never learn how to handle them and never get the support which parents would willingly offer. Parents must consistently convey a willingness to discuss any difficult topic–whether adoption-related or not. We must reassure our kids that we are strong enough to hear the tough things and eager to be the safe harbor they need.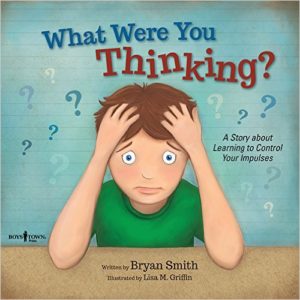 What Were You Thinking? by Bryan Smith and illustrated by Lisa M. Griffin addresses common moments from a child's life. As many parents and teachers can vouch, the answer to the title question is frequently that the child wasn't thinking at all; they operated on impulse. Or, they were thinking but their behavior was highly unlikely to produce their expected result.
This book helps kids see that doing the first thing that comes to mind may not be their best choice. It might even accomplish the opposite of their intended goal. It also shows how kids sometimes expect something to be funny when it can actually cause others–classmates, teachers, coaches and parents– to be annoyed instead of entertained. Sometimes the "cost" of the laughter they seek, far exceeds the momentary rush of any attention.
The illustrations invite exploration of the book's theme and make obvious that Braden's idea of funny does not necessarily match his classmates" feelings. This can lead to conversations about the range of responses one can see within an entire classroom of kids.
What Were You Thinking? outlines a simple four step strategy which kids can practice to help them smooth out their responses and ensure that the result they get is the one which they want. A brief Tips for Parents and Educators is included which offers further information on how to guide children to develop better impulse control. Can also open conversation about intentions & how humor doesn't lessen the pain of hurtful remarks/behavior.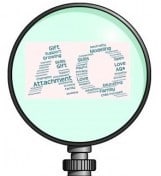 AQ Lens: Kids who have experienced trauma, grief and or loss may have weak impulse control, high distractibility. Or they may have been taught negative and/or inadequate behavior strategies. In addition to learning better strategies, these kids may also have to unlearn negative strategies.
This book offers another tool for helping kids fine-tune their emotional literacy and expand their menu of choices. By exploring the gap between intended goal and actual results, families can teach kids to recognize and choose strategies that serves them better.
Diverse Children's Books is a book-sharing meme designed to promote the reading and writing of children's books that feature diverse characters. This community embraces all kinds of diversity including (and certainly not limited to) diverse, inclusive, multicultural, and global books for children of all backgrounds.
We encourage everyone who shares to support this blogging community by visiting and leaving comments for at least three others. Please also consider following the hosts on at least one of their social media outlets. Spread the word using #diversekidlit and/or adding our button to your site and your diverse posts.
We hope this community will grow into a great resource for parents, teachers, librarians, publishers, and authors! Our next linkup will be Saturday, August 6th and on the first and third Saturdays of every month.
Theme Idea for August
We thought it might be fun to try having a suggested theme for the next linkup. Those who are interested in participating in the theme would have from now until the next linkup (August 6th) to write a post based around the theme and then share it with the rest of us. You do not have to focus on a given theme to participate in the linkup, but we thought it might encourage folks to explore and share new diverse books.
The theme for the August 6th linkup is … Diverse Books for Back to School. Please consider sharing a favorite book (or books) either about school / back to school or that might make a great read aloud during those first few weeks of school. We look forward to seeing your choices!
Most Clicked Post from Last Time
Our most clicked post from the previous #DiverseKidLit linkup comes from Acorn Books: Chicken Man by Michelle Edwards. This book is the winner of a National Jewish Book Award and tells the story of a character named Rody, nicknamed Chicken Man, and how his joy in his work makes everyone on the kibbutz want to try his job next. Make sure you read to the end of the post for an incredibly-tasty looking recipe for Teigelach cookies.
#DiverseKidLit is Hosted by:
Want to be notified when the next #diversekidlit linkup goes live? Click here to join the mailing list. Interested in joining as a host or an occasional co-host? Contact katie at thelogonauts.com.
(Never participated in a linkup before? Please click here for a more detailed step-by-step.)