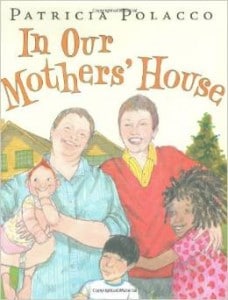 As an adoptive parent, an adoption coach and a writer on adoption issues, I found In Our Mother's House by renowned author, illustrator Patricia Polacco exceptional. As is probably obvious from the title, the story focuses on a/n (adoptive) family with two mothers. Readers searching for stories that include LGBTQ families will appreciate this upbeat and poignant tale.
Written as a flashback from a now-adult adoptee who recalls some treasured and delightful memories of her childhood, In Our Mother's House focuses on the positives, on how families can look different but still be about the love and care that connect them. Lesbian parenting is not the focus of the book; it is the backdrop. The story concentrates on the warm, supportive and "regular"  family that the children and their two mothers shared. Love, tolerance and joy thread throughout.
While most of the neighborhood characters welcome and embrace this unique family, one does not. Polacco makes the point subtly—the children wonder why Mrs. Lockner grumps at them whenever they meet her. The mothers concentrate on reaching out to neighbors (all of them) to create community.
The illustrations include a dazzling array of diversity. Many lend themselves to further exploration of cuisine, language and neighborliness, etc. Although the story is about a family formed through adoption, it doesn't concentrate on adoption issues, makes no mention of the emotional struggles that adoptees often face nor does it mention birth parents, etc. In Our Mother's House is a sweet, feel-good book about the wondrous blessing of a loving family. Great book!