In the vein of Love You Forever by Robert Munsch You're Lovable to Me by Kat Yeh and illustrated by Sue Anderson sends a reassuring message to children that their parents will love them unconditionally. Mama's love is steady whether bunny is "sad…or he's frightened…or she's lonely…or he's worried…or she's mad…." In other words, Mama loves her little ones when it is easy and when it is challenging. Children need  that reassuring message repeated regularly.
As in Munsch's book, the story extends the thread of unconditional love back to the grandfather as he tucks a blanket around his now-adult daughter. What a lovely way to model the permanent need we have for nurturing, kindness and caring-in-action.
AQ Lens: Adopted children benefit from frequent reassurance that they are fully accepted into the family, that their belonging exists independent of their measuring up or behaving in a certain way. The story does this well. It's gentle illustrations exude a sweet nurturing feel. Moreover, the behaviors and emotions that the story mentions cover a broad spectrum.
This creates an easy teaching moment for exploring the complexity of emotions which children experience and can help them develop a broad vocabulary of emotions. This helps children identify and manage their feelings.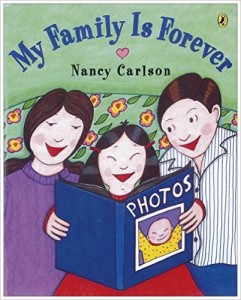 My Family Is Forever by Nancy Carlson features an Asian-American child–with Caucasian parents–and follows common themes in children's books about adoption. First, loving relationships define families; they need not look similar in order to be a family. Second, it describes the parent's yearning for a child, their working with an adoption counselor, their  struggle to wait until receiving a referral, the parents' plane flight to meet their child and, finally the child's thoughts about her birth parents.
The story concludes with the familiar refrain, Families are forever."
AQ Lens: Adopted children enjoy hearing their adoption stories and they take delight in knowing how happy their parents were to have them join the family. This story does a good job on that count.
I wish it included more direct reassurance that the adoptive parents welcome the girl's questions and mixed feelings about the more difficult/painful parts of adoption. (When reading My Family Is Forever, parents can take the opportunity to hold that exact conversation!)
Adoptees know through direct experience that families can be broken apart. It's already happened to them at least once (when they were separated from their birth families.) Thus, in an attempt to reassure children, adoptive families are frequently described as forever families.  It is important that adoptive families also convey that their birth families are also forever a part of the adoptee.
(I wish we could coin a new phrase that reassures children without subtly implying that their birth family is somehow no longer a part of them. Suggestions and discussion are welcome!)